Contact: Sarah Nicholas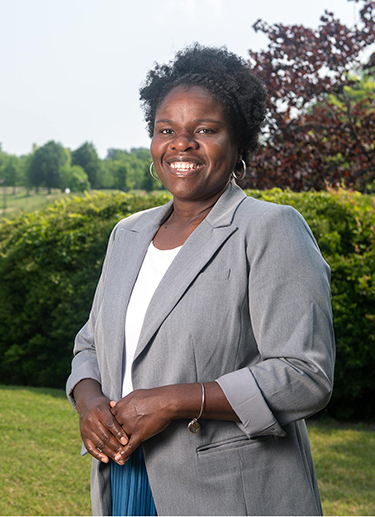 STARKVILLE, Miss.—Mississippi State Associate Professor Kenya Cistrunk is the 2023 president of the Mississippi Conference on Social Welfare, a group founded in 1927 to promote social welfare and foster professional development for human service professionals across the state.
A faculty member in the Department of Sociology, Cistrunk serves as director for MSU's social work program. As president of MCSW, she will focus on the continued development of internal processes and organization protocols, while seeking to increase membership. For more information on MCSW, visit www.mymcsw.org.
"During my time as president, I plan to focus on improving our visibility across the state with professionals in a range of non-profit and for-profit organizations that primarily focus on human services," said Cistrunk, whose term began in January after her 2022 term as president-elect and scholarship committee chair.
"As president, I look forward to working with an esteemed group of professionals from across our great state who are committed to advocacy and empowerment," she said.
A qualitative researcher, Cistrunk focuses on service provisions for marginalized and/or oppressed populations and examines underresourced communities and groups. These services range from tangible items to help meet basic life needs to the development of programs for underserved youth and at-risk families in rural communities.
A Licensed Master Social Worker, the McCool native is a 1997 graduate of MSU, where she earned her bachelor's degree in social work. She received her Master of Social Work degree in 2000 from the University of Alabama with an emphasis in program planning and administration. She earned a 2013 Ph.D. in adult education from the University of Georgia, where her research focused on the needs of homeless adults and faith-based community agencies. 
Cistrunk is an executive board member of the J.L. King Center in Starkville and was the recipient of the 2018 MSU College of Arts and Science Teaching Award in Social and Behavioral Sciences.
The Department of Sociology is part of MSU's College of Arts and Sciences. Learn more about the college at www.cas.msstate.edu; its sociology department at www.sociology.msstate.edu.
MSU is Mississippi's leading university, available online at www.msstate.edu.