Contact: Vanessa Beeson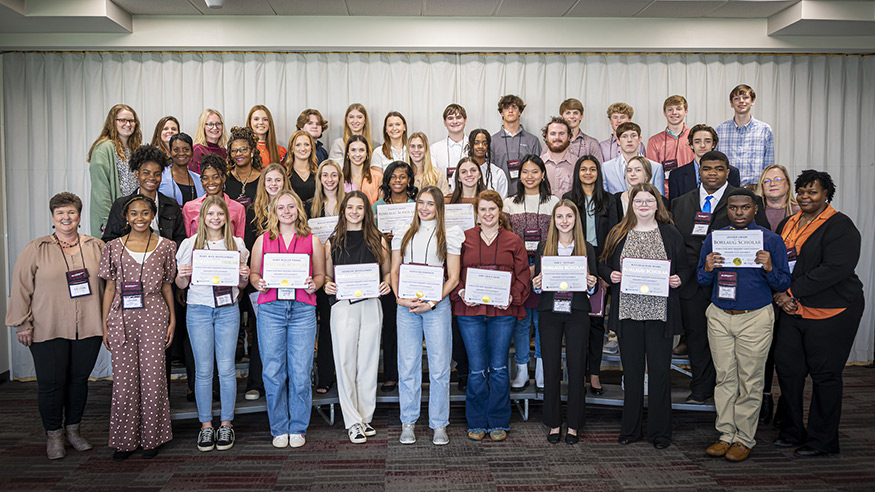 STARKVILLE, Miss.—Policy in Africa to education in Guatemala to human rights in Afghanistan are just a few of the problems 40 high school students sought to tackle at the sixth annual World Food Prize Mississippi Youth Institute at Mississippi State on Friday [March 3].
At the event, hosted by MSU's College of Agriculture and Life Sciences, students were honored as Borlaug Scholars as they made presentations on global food insecurity. They also gave short speeches and participated in small group discussions with international food security experts, while connecting with other student leaders from across Mississippi to share ideas, identifying solutions to hunger and building friendships.
Katie Keenum, a senior at Starkville Academy, attended the Mississippi Youth Institute for the second year in a row.
"One of the reasons I like this experience is because it lets us see food insecurity beyond the limited scope of our daily lives. We can focus our thoughts and resources on more of a global standpoint and see that there are many places in the world affected by different crises, including food insecurity," Keenum said.
This year her paper titled "Comoros: Past Regime Instability and Its Effects on Food Security" delved into how policy and governance affect this issue across the East African island nation.
"Participating in this event has taught me the food crisis is global, and through my research I've learned that food insecurity has to be uniquely addressed in each individual country. One solution doesn't fit all, and each country's challenges must be addressed according to specifics. For example, each country's demographics, economics, geography, government structure, environment and international relations all play a role in this issue," she said.
MSU President Mark E. Keenum, a longtime champion of food security, said he is thrilled to see young people like his daughter Katie grappling with complex issues surrounding global food security. He said it is especially meaningful to see his own children engaged in the conversation.
"As a parent, I'm so proud to see Katie focused on helping others by seeking solutions to address hunger and poverty. We have made significant progress in this fight, but it will be up to her, her peers and our students here at Mississippi State to ensure that one day we can end global hunger and alleviate suffering. It is an ambitious goal, but one I know we can achieve," Keenum said.
A former U.S. Department of Agriculture Under Secretary, Keenum serves as chairman of the Foundation for Food and Agriculture Research and is immediate past chairman of the Board for International Food and Agricultural Development.
"Mississippi State is recognized nationally and internationally as taking care of what matters by improving access to nutritious food, better health, quality education and economic opportunities—working hand in hand with our many partners, including the U.S. Agency for International Development and the U.N.'s Food and Agriculture Organization. It is an honor to host the World Food Prize Mississippi Youth Institute on our campus, and I applaud all of the students who are participating for their commitment to making a difference," Keenum said.
Darrell Sparks, CALS associate dean, said the program serves as a launching pad for future leaders to effect change.
"The Mississippi Youth Institute gives high school students the opportunity to consider global issues and propose their own solutions. Ideally, this instills additional confidence in these future problem solvers. We want them to realize they can facilitate change both in their communities on a local level and abroad on an international scale."
The Charles E. Lindley lecture also was part of the event, featuring speaker Daniel Gustafson, Special Representative of FAO's Director-General. Gustafson has worked for the past 40 years on agriculture and rural development issues across the globe.
The World Food Prize Global Youth Institute was created by Norman Borlaug, a 1970 Nobel Peace Prize winner for his lifetime of work to feed a hungry world.
Top students will be invited to the Global Youth Institute in Iowa in October. Participating students also are eligible for CALS scholarships and can apply to the Borlaug Ruan International Internship and the USDA Wallace-Carver Fellowship.
This year's Borlaug Scholars are (by school):
HAMILTON ATTENDANCE CENTER—Kalem Hall
HILLCREST (Jackson)—Acelia Donerson, Ashantia Donerson, Kayla Epperson, Haleigh Grant, Teagan Hammond and Campbell Hargett
HOME SCHOOL—Noah Pettigrew (Lena), Landon GoMillion (Carthage) and John Clayton Kitchens (Meridian Christian Home Educators, Collinsville)
LEAKE CENTRAL (Carthage)—Emily Stewart
LOYD STAR (Brookhaven)—Amy Grace Estes
MISSISSIPPI SCHOOL FOR MATHEMATICS AND SCIENCE (Columbus)—Makenzie Brannon (Meridian), Dia Kher (Ocean Springs), Sephora Poteau and Iris Xue (Southaven)
RAYMOND—James Price and Mya Sturgis
STARKVILLE ACADEMY—Meg Brown, Piper Conrad, Katie Keenum, Madeline Montgomery, Mary Alex Montgomery, Charlie Nicholas, Arden Parker, Katie Randall, Madison Reed, Olivia Richardson, Andrew Robertson, Rhett Shanahan, Kat Skelton, Caleb Stockton, Tina Trac, Newt Thomas, Jackson Walters, Mary Reagan Wilkes and Drew Williams
STARKVILLE—Jayden Crain
TREMONT—Kayleigh Rose Myers
The Mississippi Youth Institute is hosted by MSU with generous support of the College of Agriculture and Life Sciences, Barry L. and Lana B. White and the Madison Charitable Foundation.
To learn more about the Mississippi Youth Institute, visit www.worldfoodprize.org/en/youth_programs/global_youth_institute/mississippi/.
For more on MSU's College of Agriculture and Life Sciences, visit www.cals.msstate.edu.
MSU is Mississippi's leading university, available online at www.msstate.edu.