Contact: Allison Matthews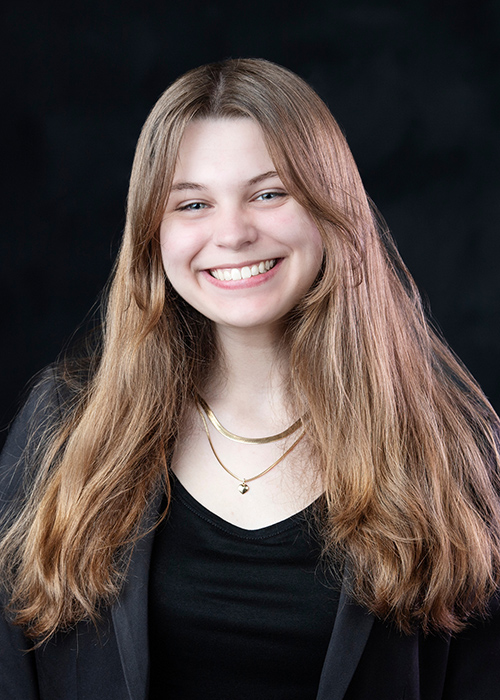 STARKVILLE, Miss.—A Mississippi State chemical engineering major and Presidential Scholar is a national finalist for the Harry S. Truman Scholarship.
Courtney N. Cochran of Tupelo is among the select, prestigious group of 199 finalists across the country for the premier graduate fellowship for those pursuing public service careers in a range of fields. Finalists were selected from more than 700 applicants representing 275 educational institutions. Established by Congress in 1975, the Truman Scholarship carries the legacy of the nation's 33rd president by supporting and inspiring the next generation of public service leaders. 
Cochran is a Mickey and Babs Holliman Presidential Endowed Scholar in MSU's Judy and Bobby Shackouls Honors College. She advances to a final Truman Scholar interview March 20 in Nashville, Tennessee.
A graduate of Tupelo Christian Preparatory School, Cochran's aptitude for chemistry and calculus led her to the Dave C. Swalm School of Chemical Engineering in MSU's Bagley College of Engineering, where she has been involved as an undergraduate research assistant developing renewable polymers made out of cottonseed oil rather than a petroleum base. She said her studies are giving her a scientific foundation for understanding many environmental issues, and she has interest in impacting future environmental policy decisions.
"We need to have both a big picture and also a molecular-level understanding of many environmental and energy problems," said Cochran, who describes herself as a lifelong Bulldog fan and has found a university culture in which she "enjoys working with peers in a team" and can "always go to [her] professors."
"MSU has the benefits of a large university, but you find your niche and it feels a lot smaller, like a family," she said.
She has been involved with MSU's Student Association, and recently led student legislation to acquire clothes drying racks for university residents. Cochran said even if only a fraction of residence hall students utilize these racks, the effort will save the university significant cost while having a positive environmental impact.
MSU Associate Professor Don Shaffer, who serves as mentor for the university's Presidential Scholars, said, "Courtney truly represents the ideals of the Presidential Endowed Scholarship program. Her commitment to service and her passion for environmental conservation make her a strong candidate for the Truman Scholarship."
Professor of Chemical Engineering and Hunter Henry Chair Julie Jessop also has been among Cochran's most notable teachers and mentors. "Courtney is what I would consider a Renaissance woman—she's active in diverse student organizations across campus, adept in STEM subjects, and passionate about politics," Jessop said. "We need STEM-loving and STEM-literate leaders who will provide guidance for our legislators as they tackle today's challenges and set targets for a sustainable future."
Last summer, Cochran interned as part of the William A. Demmer Scholars Program for the U.S. House of Representatives Committee on Natural Resources. Other MSU activities have included being a leader of the university's Energy Club through its participation in the U.S. Department of Energy Solar Decathlon collegiate competition, as well as president and vice president of Students for a Sustainable Campus. She also is a member of MSU's Speech and Debate Council.
David Hoffman, an associate professor in the College of Arts and Sciences' Department of Anthropology and Middle Eastern Cultures, also serves as director of the Office of Prestigious External Scholarships, which mentors Cochran and other MSU students applying for national, merit-based scholarships and fellowships.
"Courtney's record at MSU demonstrates both academic excellence and exceptional commitment to public service," Hoffman said. "A leader in many activities, she has engaged with environmental issues on campus, in the city of Starkville, and at the national level. In particular, her internship with the Demmer Scholars program in Washington, D.C. last summer enabled her to get real-world practice at doing the community and national level research that shapes renewable energy policy decisions.
"Courtney is a leader who views environmental issues and policies from multiple angles and sees it as her role to bridge divides by ensuring that all voices are heard and represented," Hoffman continued. "We are very proud of Courtney's excellent work both prior to applying and through the application process. Her selection as a Truman finalist is yet another demonstration of the amazing opportunities for impactful and meaningful undergraduate experiences that are facilitated by MSU's programs and faculty mentors."
Assistant Clinical Professor of Political Science Whit Waide, who serves as advisor for pre-law students, said, "Courtney Cochran is so smart sometimes I think there needs to be a new word to describe how smart she is. 'Smart,' for me, is being a nice blend of bright, intellectual, empathetic, wise, rational and kind. She's one of my favorite students of all time." Cochran is considering law school among her options for graduate study.
Learn more about the Shackouls Honors College at www.honors.msstate.edu.
MSU is Mississippi's leading university, available online at www.msstate.edu.