Contact: Aspen Harris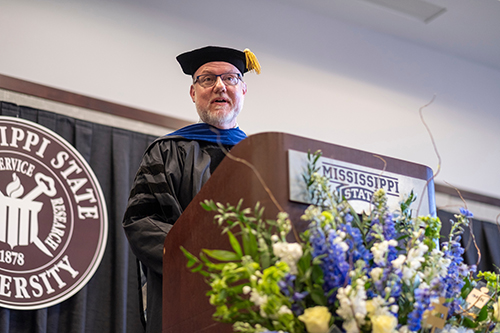 STARKVILLE, Miss.—Mississippi State Professor Robert M. West has been named head of the Department of Classical and Modern Languages and Literatures after serving as the interim head since July 2021.
West will become the CMLL department head effective, July 1. He has been a faculty member in the English department since 2002 and was a key part of the 2019 installation of MSU's Phi Beta Kappa chapter, the oldest academic honors society in the U.S. He has served as PBK chapter president and currently is on the executive committee. He also served as interim director of the Judy and Bobby Shackouls Honors College for the 2010-2011 academic year.
A North Carolina native and specialist in post-1900 American and British Literature, West serves as the associate editor of "Mississippi Quarterly: The Journal of Southern Cultures," MSU's academic journal dedicated to publishing scholarship on the southern U.S.
The author's publications include "Robert Morgan: Essays on the Life and Work," a 2022 McFarland and Company book co-edited with Jesse Graves, "The Complete Poems of A.R. Ammons," (W.W. Norton and Co., 2017); "Succinct: The Broadstone Anthology of Short Poems," (Broadstone Books, 2013), co-edited with Jonathan Greene; and poetry chapbook "Convalescent," (Finishing Line Press, 2011).
West's essays, book reviews and poems have appeared in publications including Alabama Literary Review, American Life in Poetry, Appalachian Journal, The Best Nonrequired Reading, Christian Science Monitor, Poetry, South Atlantic Review, Southern Poetry Review and Southern Quarterly.
West received his Ph.D. and master's degrees in English from the University of North Carolina at Chapel Hill and has a bachelor's degree in English from Wake Forest University.
MSU's College of Arts and Sciences includes more than 5,000 students, 323 full-time faculty members, nine doctoral programs, 14 master's programs, and 27 undergraduate academic majors offered in 14 departments. It is home to the most diverse units for research and scholarly activities, including natural and physical sciences, social and behavioral sciences, and the humanities. For more details about the College of Arts and Sciences and its Department of CMLL, visit www.cas.msstate.edu and www.cmll.msstate.edu, respectively.
MSU is Mississippi's leading university, available online at www.msstate.edu.