Contact: Trey Barrett

STARKVILLE, Miss.—Distinguishing red and green traffic lights. Determining the correct orientation of a drone from color cues and markings. Discerning color-coded topography lines on maps. These are just some ways colorblindness affects more than 350 million individuals globally, including an estimated 1,200 of the nearly 28,000 Mississippi State University students, faculty and staff who are Color Vision Deficient across every discipline.
Mississippi State faculty members in the plant and soil sciences and geosciences departments have partnered with EnChroma, makers of specially engineered glasses that can alleviate CVD obstacles, to improve learning and support for colorblind students.
EnChroma, based in Berkeley, California, will provide the glasses—for indoor and outdoor use—for all colorblind MSU students and staff to borrow from the Department of Geosciences. Amelia Fox, assistant clinical professor of plant and soil sciences, arranged for the purchase of the glasses via EnChroma's Color Accessibility Program.
Fox searched for assistance from various departmental faculty members. Ultimately, she found Renee Clary, a professor in geosciences, who had a mutual desire to address colorblindness in the classroom and a shared passion for optimizing learning for colorblind students.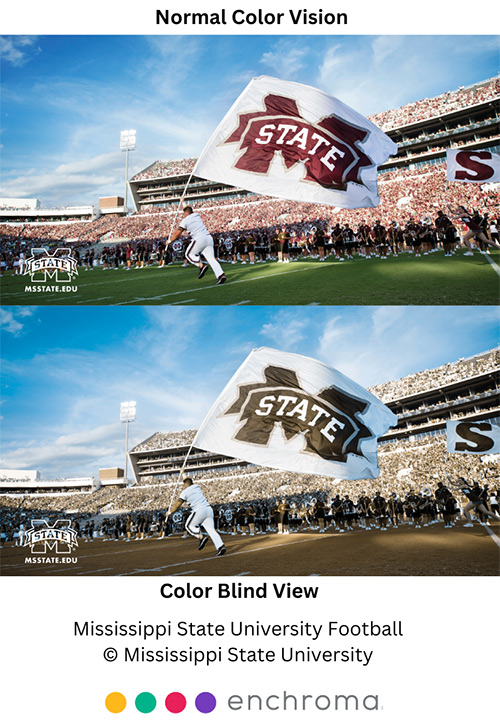 "We are both deeply entrenched in teaching and value student success, so we couldn't go forward with our teaching if any student has a solvable issue that hinders their ability to achieve their full potential," Fox said. Together they gathered support to make EnChroma glasses for colorblindness available for loan to CVD students and staff on campus.
While the glasses do not restore one's color vision to normal, they do enable red-green colorblind students in any discipline to see an expanded range of color more clearly and better discern color differences. Within the Department of Plant and Soil Sciences, the glasses will help colorblind students orient drones properly and sense the correct flight sequences and wire aircraft to fly. Within the Department of Geosciences, the glasses will help students differentiate topography lines on maps, landscape coloration and volcanic rock colors.
Both Fox and Clary have had prior experience with colorblind students and individuals throughout their lives. Clary said by closely working with a graduate student who was colorblind, she was able to see the benefits of the accommodating devices firsthand.
"When Dr. Fox reached out to me, I knew it was an important area we needed to address," Clary said. "We need to accommodate our colorblind students so we can optimize their learning."
The EnChroma glasses support the two types of color blindness: protan and deutan. Protan colorblind individuals do not perceive enough red color, while deutan colorblindness is the result of not perceiving enough green.
Fox said she is confident that the glasses will provide a better academic experience for colorblind students.
"As teachers, we can fill in the gaps of our students through empathy and simple tools, such as these glasses," Fox said. "A saying goes 'if you only have a hammer, every problem looks like a nail.' But you need many tools in your toolbox if you're going to teach different students."
For more information on the Department of Plant and Soil Sciences, within the College of Agriculture and Life Sciences, visit www.pss.msstate.edu.
For more on the Department of Geosciences, within the College of Arts and Sciences, visit www.geosciences.msstate.edu.
For more on EnChroma, the effects of color blindness, its glasses or the Color Accessibility Program, visit www.enchroma.com or email accessibility@enchroma.com.
MSU is Mississippi's leading university, available online at www.msstate.edu.