Contact: Meg Henderson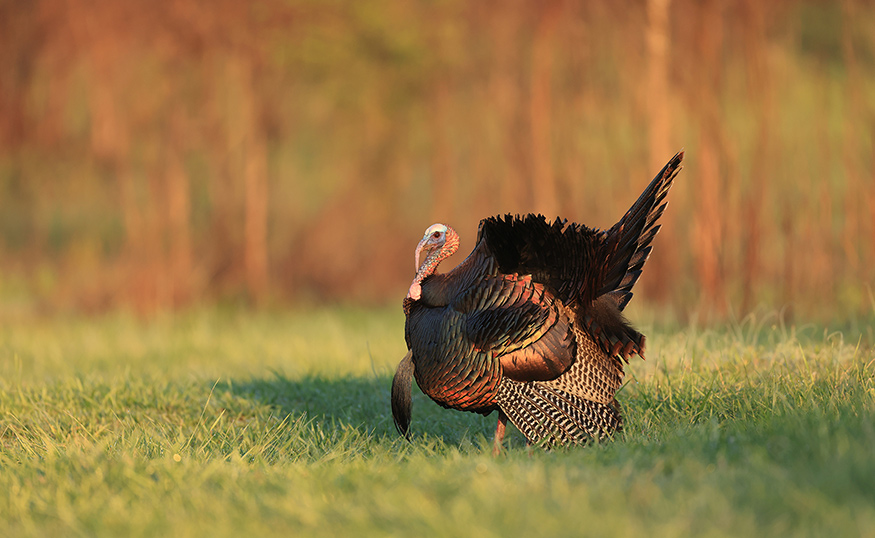 STARKVILLE, Miss.—For hunters in Mississippi, the call of a wild turkey heralds the official start of spring as much as the emerging daffodils and unmistakable coating of pollen.
With a three-decade trend of declining turkey populations in some regions of the state, an accurate assessment of turkey population is critical to proper management of the birds' habitats, seasonal hunting regulations and hunt success. State agencies rely heavily on feedback from hunter surveys to inform their management practices and policies. The Mississippi Department of Wildlife, Fisheries and Parks recently partnered with Mississippi State's Forest and Wildlife Research Center to take a closer look at turkey hunter surveys.
Scientists analyzed data from annual MDWFP surveys to understand how hunter characteristics are related to the catch-per-unit-effort index, or CPUE.
Hunter surveys are used to develop the CPUE, which measures the number of turkeys harvested divided by the number of hours spent hunting. This number is an index of wildlife populations and has been MDWFP's standard—as it has been for many wildlife agencies—for decades.
"On a statewide scale, it's difficult to know exactly how many animals are out there, so agencies like ours use CPUE to track whether the population is increasing, decreasing or stable," said Adam Butler, Wild Turkey Program director for MDWFP.
"There are other methods of estimating populations, such as capture-recapture, or counting the number of animals per mile in a defined area, but they are expensive and time and labor intensive," added Guiming Wang, FWRC scientist and Dale H. Arner Professor of Wildlife Ecology and Management at MSU.
Butler and Wang, who have collaborated over the years, wanted to understand how turkey hunters defined success. Drawing from MDWFP's three decades of survey data, the team focused on results from hunter surveys from the 2015-2018 seasons.
The experiences of 618 unique turkey hunters revealed over 20,000 hunts during the four-season period. On average, hunters harvested at least one turkey per season or four turkeys per 100 hours hunted. The average age of hunters was 48.8 with 25 years of turkey hunting experience. Hunters reported hearing at least one male turkey gobble on more than half of their outings.
Wang said the survey results from this four-season period allowed the researchers to examine how turkey hunters hunt.
"Do they actively cover large areas or wait for turkeys? Do they use decoys? Are they in areas where there is a lot of hunting pressure? Statistical inferences from the CPUE data makes assumptions that hunters are consistent over time, but we discovered that hunter efficiency can change over time," Wang explained.
The CPUE index does not consider other information provided by hunters in the survey. Wang added that including this information yields interesting results.
"We found that a hunter's age was an important predictor of success while years of experience was not. That information is not clear in the CPUE index. For example, our analysis found that the likelihood of hunters harvesting at least one turkey increased by two percent each year," Wang added.
Survey data also revealed that about one-third of hunters use turkey decoys and over 88 percent use 12-gauge shotguns. Over half of the hunters indicated that they actively cover large areas looking for turkeys and wait for turkeys to reveal themselves, combining the techniques to find the elusive bird. Mississippi turkey hunters averaged 17 outings per year with the average hunting excursion lasting about three hours. 
Wang said knowing that individual hunter characteristics change over time could potentially mask trends in populations derived from CPUE.
"If your population of hunters is older, it may appear that turkeys are abundant, because the hunters are more successful. Older hunters with less responsibilities may be more selective with their outings, preferring to hunt on days when weather conditions are more favorable for increased activity."
While CPUE data is reliable, the study found that there could be some biases when it comes to successful turkey hunting.
Butler and Wang encourage turkey hunters to participate in MDWFP's annual survey so that scientists may gain an accurate assessment of success in the field.
"The information hunters provide in the survey is vital for us to conduct research that helps best manage wild turkey populations to ensure successful turkey hunting for years to come," Butler said.
To learn more about MSU's Forest and Wildlife Research Center, visit www.fwrc.msstate.edu. For more information on the Mississippi Department of Wildlife, Fisheries and Parks, visit www.mdwfp.com.
Mississippi State University is taking care of what matters. Learn more at www.msstate.edu.