Contact: Allison Matthews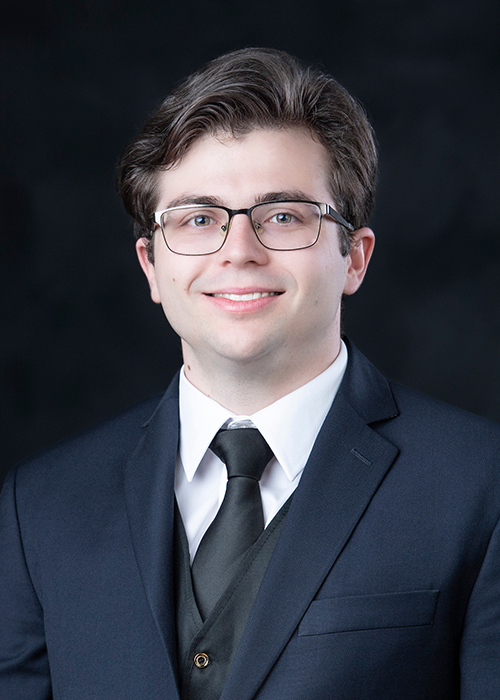 STARKVILLE, Miss.—A junior biochemistry major from Pickens is Mississippi State's latest student to be selected for the prestigious Barry Goldwater Scholarship.
James T. Feduccia is receiving one of the nation's premier undergraduate scholarships for STEM students with significant research experience and a passion for making important research contributions in graduate school and their careers. He is the university's 22nd student to achieve this honor since the Goldwater Foundation's inception.
Feduccia plans to pursue a Ph.D. in molecular and cellular biology and conduct research in the biology of aging, molecular evolution and synthetic biology, with the goal of running a large multi-project laboratory in a university setting.
He is among only 413 Goldwater Scholars chosen this year from 1,267 natural science, engineering and mathematics students who were nominated by 427 colleges and universities.
As an undergraduate research assistant, Feduccia has studied issues such as the relation  of antimicrobial peptide genes to resistance in corn against a certain fungus. His experience includes departmental research in biochemistry and molecular biology; wildlife, fisheries and aquaculture; and plant and soil sciences, as well as completing a 2022 summer National Science Foundation-Research Experience for Undergraduates, or NSF-REU program, at Simmons University in Boston, Massachusetts.
He has particular interest in molecular neuroscience and developing new ways to counteract neurodegenerative diseases, whether by prevention or treatment.
"I hope to be able to use what I learn in my Ph.D. and undergraduate studies to find ways to regenerate lost brain tissue and hopefully help individuals keep or gain cognitive function," Feduccia explained.
"The Goldwater Scholarship means a lot to me. My passion has always been science, and I know that this will help me achieve my goals and illuminate the path ahead. Receiving this honor has made me realize that I should always take more chances and that at no point is my path defined by anyone. I am eternally grateful to my mentors who I have worked under in my research experiences and for their support. It has given me great hope and has motivated me further in continuing my pursuit towards a career in research."
David Hoffman, director of MSU's Office of Prestigious External Scholarships, said, "James' successful Goldwater application is a testament to the excellent research opportunities and mentoring available to MSU students. He has built his laboratory skill sets and taken part in cutting-edge research from the beginning of his career here at MSU. His application materials illustrated his multiple laboratory experiences, as well as his future commitment to a Ph.D. and career in STEM research, which helped him land this extremely competitive scholarship."
Hoffman, who also serves as an associate professor in the Department of Anthropology and Middle Eastern Cultures added, "James is truly a superb student that took advantage of exceptional mentoring both here at MSU and on his NSF-REU experience at Simmons. I am excited to see how he will advance molecular biology into the future.
For more about the Goldwater Scholarship program, visit https://goldwaterscholarship.gov/.
Mississippi State University is taking care of what matters. Learn more at www.msstate.edu.