Contact: Sarah Nicholas
STARKVILLE, Miss.—Professor Becky Hagenston in Mississippi State's Department of English is adding to the department's creative writing prowess with an elite short story prize and the release of six recent pieces of original work.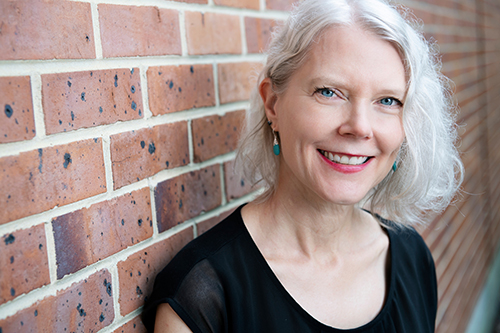 The winner of a 2020 Pushcart Prize and two O. Henry Awards, Hagenston this spring won Story magazine's Story Foundation Prize for her work "Woman of the House," garnering $1,500 and publication of the piece in the summer edition.
Founded in 1931, Story is a tri-annual print publication devoted to short fiction.
"Story is one of my absolute favorite literary journals," Hagenston said. "I enter their contest every year and read every issue. I feel so thrilled and honored to be published in the magazine."
Hagenston drew inspiration for "Woman of the House" from stories her in-laws shared about living in Rapid City, South Dakota, in the early 1970s.
"My father-in-law was in the Air Force, spending days underground in a missile silo, and my mother-in-law stayed home with their two little boys. I started this story three years ago, just taking notes as my in-laws talked about what they remembered. Then I became more focused, and started turning it into fiction by making the husband and wife very different from my actual in-laws," she said.
Since 2022, Hagenston has published five additional short stories: "The Sunshine Family" in Southern Indiana Review, "Orchid Children" in The Normal School, "The Participants" in Gulf Coast magazine, "Divided House" in The Hopkins Review," and "La Mesa" in Arts and Letters magazine.
For her prolific creative writing, last year Hagenston received a Mississippi Arts Commission fellowship, a program focused on honoring Mississippi artists who demonstrate the ability to create exemplary work in their chosen field.
 "I know I have to be patient and keep writing even when I feel stuck," Hagenston said. "I do something writing-related every day—even if it's staring at a page or reworking a paragraph or reading something that inspires me. I'm also incredibly lucky that my job is teaching creative writing, which keeps me inspired."
An MSU faculty member since 2001, Hagenston is the author of numerous award-winning story collections—"The Age of Discovery and Other Stories," winner of The Journal's book prize and the 2022 Mississippi Institute of Arts and Letters Award in fiction; "Scavengers," winner of the Permafrost Book Prize; "Strange Weather," winner of the Spokane Prize in Short Fiction; and "A Gram of Mars," winner of Sarabande Books' Mary McCarthy Prize.
For more about her work, visit https://beckyhagenston.com.
For more details about MSU's College of Arts and Sciences or Department of English, visit www.cas.msstate.edu and www.english.msstate.edu.
Mississippi State University is taking care of what matters. Learn more at www.msstate.edu.