Contact: Meg Henderson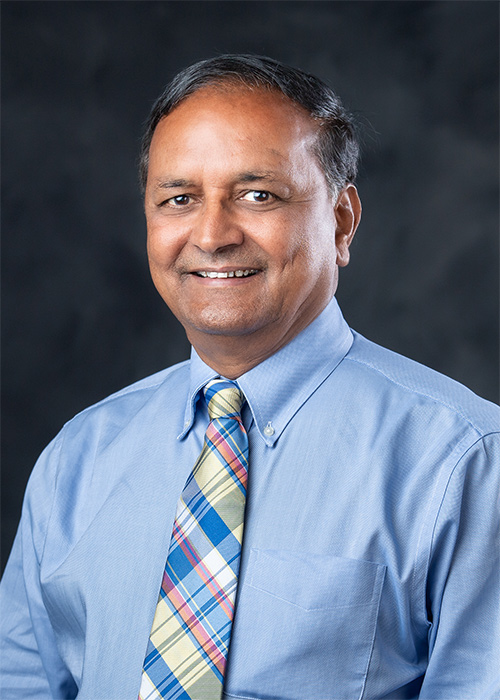 STARKVILLE, Miss.—Raja Reddy, a Mississippi State researcher and William L. Giles Distinguished Professor in the Department of Plant and Soil Sciences, is being recognized for more than four decades of modeling the effects of environmental stressors—extreme heat, drought and insects, to name a few—on agricultural production crops.
The Soil Science Society of America is recognizing the far-reaching impact of Reddy's work, naming him this year's recipient of the L.R. Ahuja Ag Systems Modeling Award. Since 2007, this award has honored agronomists and soil and crop scientists whose system models have considerably advanced agricultural research. Reddy, a Mississippi Agricultural and Forestry Experiment Station scientist who celebrates his 35th year at MSU, will be honored during the SSSA annual meeting in St. Louis, Missouri, at an awards luncheon October 30.
"In my judgment, Dr. Reddy is the 'best of the best' environmental crop physiologist and crop modeler," said MSU Provost and Executive Vice President David Shaw, also a Giles Distinguished Professor. "His accomplishments spanning many years have helped answer pressing questions in agricultural production and environmental sustainability under a changing climate."
Reddy is ranked in the world's top 2% of scientists in plant biology and botany. A native of India, he has over 45 years of research experience in environmental plant physiology with a focus on remote sensing and crop modeling applications for agricultural resource management.
He has led or supervised many key discoveries about plants' responses to environmental factors—most notably climate change's impact on numerous production crops, including corn, soybeans and cotton. Reddy carries out his research in MSU's Soil-Plant-Atmosphere-Research, or SPAR, facility. The computer-controlled, closed-environment laboratory for plant research is one of only a few such facilities in the world. At SPAR, Reddy has recently been modeling the responses of various plant species to the climate conditions predicted to come in the next several decades.
"I grew up on a farm, learning from a young age what it takes to make a living from agriculture, and that experience has stayed with me," Reddy said. "This award is meaningful to me both professionally and personally because it encompasses a lifetime of pursuing science to benefit both the present and future generations of farmers."
Founded in 1936 in Madison, Wisconsin, the Soil Science Society of America is a community of over 6,000 members dedicated to advancing the field of soil science. It supports members by providing research-based publications, educational programs, certifications and science policy initiatives.
For more information on the Department of Plant and Soil Sciences, visit www.pss.msstate.edu. Learn more about the Mississippi Agricultural and Forestry Experiment Station at www.mafes.msstate.edu. More can be found about the SPAR units by visiting www.spar.msstate.edu. 
MSU is taking care of what matters. Learn more at www.msstate.edu.