Contact: Claire Wilson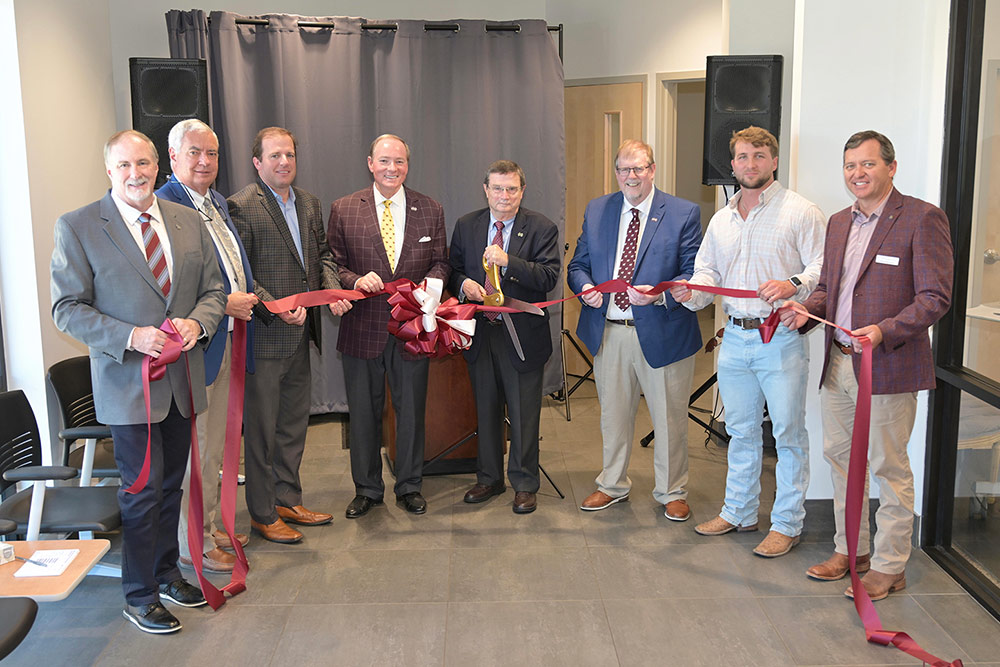 STARKVILLE, Miss.—The ribbon was cut for the Mississippi State University College of Veterinary Medicine's newly renovated and expanded Animal Emergency & Referral Center today [August 17].
Located in Flowood, the AERC now offers 4,929 square feet of renovated space along with a 14,156-square-foot addition to the previous facility, allowing for all services rendered by the clinic to be located under one roof. The new facilities provide additional patient examination and treatment areas, expanded surgery suites, and in-house physical rehabilitation services, as well as improved waiting spaces and more parking for clients.
The project also has allowed for the expansion of surgical care with a full-time veterinary surgeon now stationed at AERC. In addition, the remaining portion of the project—the second floor of the new addition which is slated to be completed this fall—will offer housing for DVM students during their fourth-year clinical rotation at the clinic and meeting space for various outreach programs and events.
Since it was established in 2007, as a result of a group of Jackson-area veterinarians reaching out to the college, and the subsequent partnership between the college and nine of these practitioners for the construction of the original 5,200-square-foot facility at the current location in 2010, the AERC has become an integral part of teaching students and serving referring veterinarians and pet owners in central Mississippi and beyond.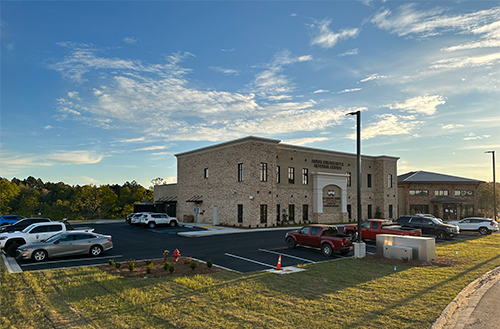 MSU President Mark E. Keenum said this new and improved Animal Emergency & Referral Center is "a wonderful asset to the veterinarians and pet owners of Central Mississippi."
"It strengthens the College of Veterinary Medicine and Mississippi State University's commitment to educating and preparing the next generation of veterinary professionals our state needs," Keenum said. "This facility, the remarkable work that takes place here, and the special people who get this work done are excellent examples of how Mississippi State University is taking care of what matters."
The AERC currently handles a sizeable portion of the CVM's caseload, providing its veterinary and veterinary medical technology students hands-on, experiential learning in a busy, urban, small-animal clinic, representative of what they could encounter following graduation. Area practitioners and their clients benefit from access to 24/7 emergency care as well as access to services provided by board-certified CVM veterinary specialists in surgery, ophthalmology, and dermatology that were previously only available on the college's main campus in Starkville.
"Today we are celebrating completion of a project that will have a profound and lasting impact. It means everything we do here will be done better: Better patient care. Better service. Better teaching of our students," MSU CVM Dean Kent Hoblet said. "These improved AERC facilities strengthen our commitment to all we serve."
Machado Patano Design Group from the Mississippi Gulf Coast served as the architectural firm for the project, which began in May 2021 with ArCon Group handling construction and project management.
Mississippi State University's College of Veterinary Medicine provides world class research in animal and public health, high quality learning experiences, and cutting-edge veterinary care, all in a family-like atmosphere. Learn more at www.vetmed.msstate.edu.
Mississippi State University is taking care of what matters. Learn more at www.msstate.edu.