Contact: Meg Henderson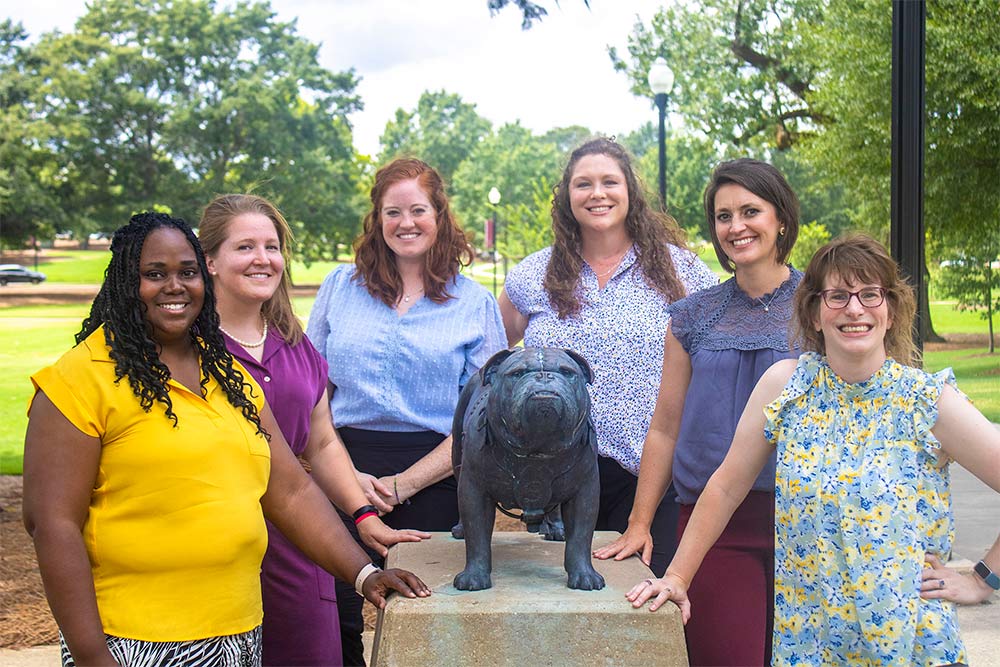 STARKVILLE, Miss.—Helping K-12 students understand the importance of agriculture and career possibilities is the focus of a $485,000 grant received by Mississippi State from the U.S. Department of Agriculture's National Institute of Food and Agriculture, or NIFA.
The four-year project titled Agricultural Science Professional Development, or ACRE 2.0, aims to instruct K-12 teachers how to integrate poultry and food science into existing curriculum, introduce students to career pathways in these fields, and forge a university-driven support and mentorship system. The grant provides participating teachers financial assistance to attend training sessions and materials to facilitate ACRE 2.0-based lessons throughout the school year.
Principal investigator and project director Stephanie Lemley, an associate professor in the Department of Teacher Education and Leadership in MSU's College of Education, and other project leaders are training a total of three cohorts of K-12 teachers, each participating in the program for a full academic year. The first cohort includes 28 teachers from 14 school districts across the state.
 Each group begins the program with a professional development session at MSU, where they learn about the program and prepare to implement it in their classrooms. This past summer, the teachers received instruction from project leaders, attended guest lectures, and created lesson plans aligning with ACRE 2.0 content. Throughout this academic year, they are attending follow-up training sessions and assessments.
Lemley explained that agricultural literacy encompasses the kinds of literacy skills—reading, writing, speaking and listening—used in classrooms and in everyday life. She and Carley Morrison, an associate professor in the College of Agriculture and Life Sciences' School of Human Sciences, aim to help teachers introduce agricultural literacy content to students through their own subject content.
"We're not asking teachers to create new content but instead to place the skills and concepts they are already teaching within an agricultural context," Morrison said. "For instance, a science teacher could explain the concepts of solid, liquid and gas matter using food-based examples."
Associate Extension Professor Courtney Crist and Assistant Professor Shecoya White, faculty in the Department of Food Science, Nutrition and Health Promotion, developed the food science curriculum, which teachers can adapt to their respective subjects and grade levels.
"Food Science is based on STEM principles—science, technology, engineering and math—so there's a natural integration of these concepts into the K-12 curriculum," Crist said.
"As a food scientist and a parent, my kids are aware that there are careers in the field," added White, "However, they'll better appreciate the passion food scientists have for their jobs when they experience food science with hands-on lessons on their level."
Associate Professor Kelley Wamsley and Assistant Teaching Professor Jessica Wells, both in MSU's Department of Poultry Science, developed the poultry science curriculum.
"Poultry is the number one agricultural commodity in Mississippi, but most Mississippians don't know much about the career opportunities in the industry," Wells said. "We want to plant that seed early."
"There are also many misconceptions that people, both young and old, have about how poultry is produced," Wamsley added. "Through these lessons, we can give children the facts and correct these misunderstandings."
The team is excited about building on this program throughout the school year.
"Part of our program's success relies on forging relationships between the university and our K-12 schools to collectively support literacy and introduce children to careers that will help feed their own and future generations," Lemley said.
The team is recruiting teachers to join the second and third cohorts.
"We hope that the teachers participating in ACRE 2.0 will share what they've learned with their colleagues so students can be empowered with knowledge about the food they eat and inspired to explore careers that they otherwise might not consider," Lemley said.
To request information about joining a cohort, contact Lemley at sbennett@colled.msstate.edu. For more about the College of Agriculture and Life Sciences, visit www.cals.msstate.edu; the College of Education at www.educ.msstate.edu.
Mississippi State University is taking care of what matters. Learn more at www.msstate.edu.
EDITOR'S NOTE: Participating school districts and teachers include:
Calhoun School District—Anamaria Moore and Amanda Taylor
Cleveland School District—Tammie Marlow
Coffeeville School District—Anthony Mason
Enterprise School District—Cindy Martin and Mary Lucus
Forest Municipal School District—Brent Foreman
Kemper County—Ashton Clark
Neshoba Central School District—Kreissa Reed
Noxubee County Schools—Lasonja Randle Ferguson
Pontotoc City School District—Kim Brumley, Renea Hinton, Laverne Richardson, Rachel Sneed, Charlotte Whitworth, Emily Clements
Quitman County School District—JoAnn Davis, Chymia Ingram, and Baxter Swearengen
Rankin County School District—Tammie Bright
Scott County School District—Joni Boswell, Emma Foreman, Chiquita McClendon, Chassidy Evans, and Hanna Williams
Simpson County—Patrick Morgan
Starkville Oktibbeha School District —Veronica Blair and Kaitland Evans