Contact: Carl Smith
STARKVILLE, Miss.—Mississippi State is celebrating NASA astronaut, author and artist Nicole Stott's contributions to science and the arts with two events this month alongside her guest appearance at the university's Astronaut Scholarship Awards Ceremony on Oct. 23.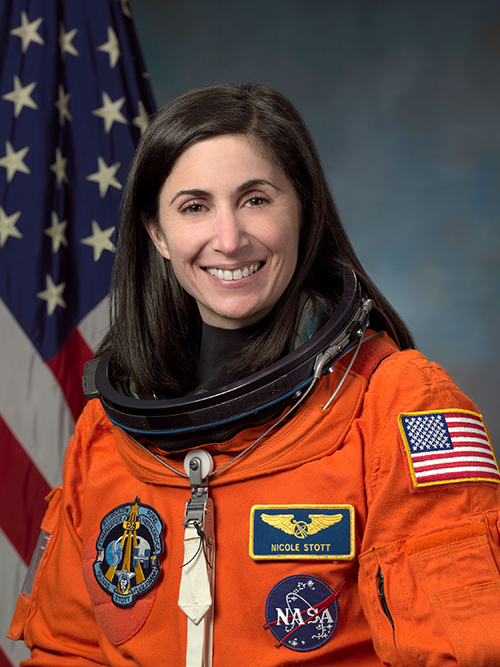 The MSU Office of Prestigious External Scholarships-sponsored event will honor the university's two latest recipients of the national designation—senior biological sciences major Madison Brode of Memphis, Tennessee, and senior biochemistry major Garrett Knotts of Moss Point. Leading up to the ceremony are other events involving or honoring Stott.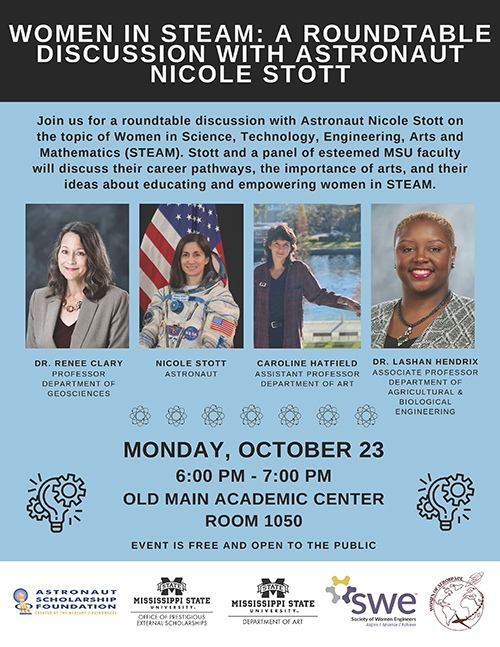 Beginning today [Oct. 17], more than 50 drawings and paintings by Starkville Oktibbeha School District fourth and fifth graders—and inspired by Stott's own artwork and time in space—are featured as part of "Out of This World," an exhibition on the second floor of Colvard Student Union. A public reception will be held at 6 p.m. Thursday [Oct. 19], and the exhibition runs through Oct. 27.
Following the Oct. 23 Astronaut Scholarship Awards Ceremony, OPES will host a question-and-answer session featuring Stott at 2:30 p.m. in Mitchell Memorial Library's John Grisham Room.
Later that day, Stott and an MSU faculty panel—including Renee Clary, professor of geology and director of the Dunn-Seiler Museum; Caroline Hatfield, assistant professor of art; and LaShan Hendrix, associate professor of agricultural and biological engineering—will discuss the importance of women in science, technology, engineering, arts and mathematics. They will focus on their career pathways, the importance of the arts and their ideas about educating and empowering women in STEAM at the 6 p.m. event in Old Main Academic Center's Room 1050.
Stott, a veteran NASA astronaut with two spaceflights and 104 days aboard the International Space Station and Space Shuttle, joined NASA in 1988 as an operations engineer in the Orbiter Processing Facility and worked in other engineering- and training-related positions before being selected for the NASA Astronaut Corps as a mission specialist. She was the 10th woman to perform a spacewalk, and she participated in the first track and capture of a Japanese HTV cargo vehicle. Stott also spent 18 days in 2006 aboard the Aquarius undersea research habitat—the longest Aquarius saturation mission to date—as part of the NASA Extreme Environment Mission Operations project.
Additionally, Stott was the first person to paint with watercolors in space and now uses her previous extraterrestrial vantage point of Earth as inspiration as a full-time artist. In 2021, she released "Back to Earth: What Life in Space Taught Me About Our Home Planet—and Our Mission to Protect It," a book detailing lessons she has learned and how to apply them to better Earth.
Stott's MSU trip is made possible by the university's partnership with the Astronaut Scholarship Foundation, and the events featuring her are sponsored by OPES, the Department of Art, Society of Women Engineers and Women in Aerospace.
Visit www.astronautscholarship.org/index.html for more information about the Astronaut Scholarship Foundation and the Astronaut Scholarship.
Mississippi State University is taking care of what matters. Learn more at www.msstate.edu.