Contact: Aspen Harris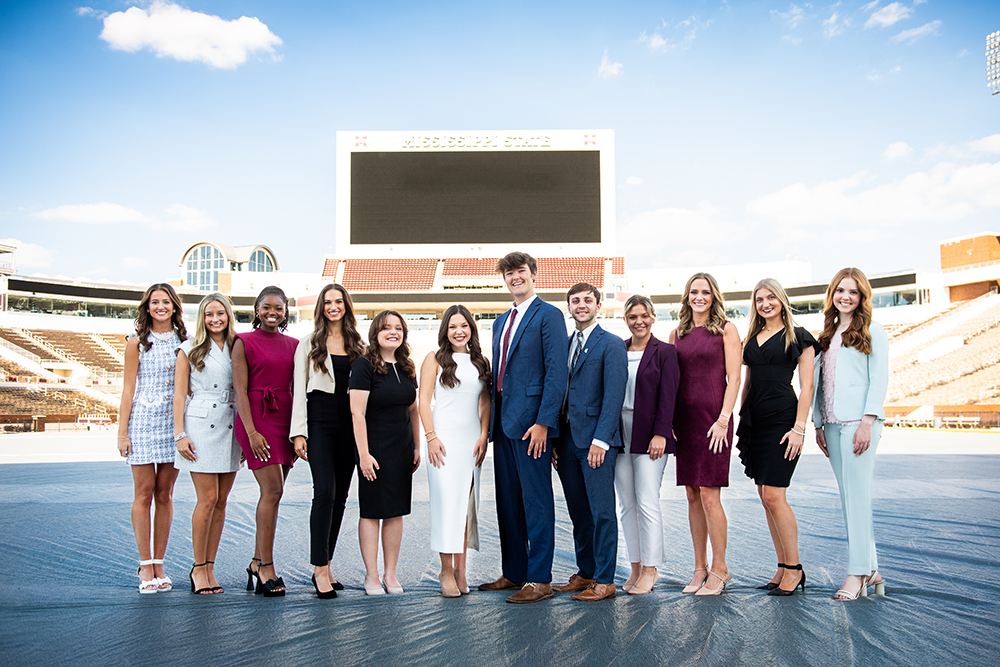 STARKVILLE, Miss.—Mississippi State students have chosen a new group of Bulldog royalty to represent the university in its 2023 Homecoming Court, which will be presented formally during halftime of the MSU vs. University of Kentucky football game Saturday [Nov. 4] at 6:30 p.m.
This year's reigning Homecoming King and Queen are Cole Ray of Indian Springs, Alabama, and Carrington Davis of Columbus. Ray is a senior marketing and supply chain logistics double major, and Davis is a senior elementary education major.
This year's Miss MSU is senior political science major Ann Olivia Radicioni of Clinton, and Mr. MSU is senior communication/public relations major Matteo Mauro of Gulf Breeze, Florida.
Additionally, each undergraduate class is represented by two maids:
SENIOR—Rachel Carpenter, a business administration and political science double major from Corinth, and BeBe Rayborn, a communication/public relations and philosophy/religion double major from Brandon.
JUNIOR—Kellen Fairburn, a biological sciences/pre-medicine major from Madison, and Reagan Hendricks, a biomedical engineering major from Hoover, Alabama.
SOPHOMORE—Reagan Felder, a psychology major from Madison, and Sadie Morris, a geosciences/broadcast meteorology major from Greenwood, Indiana.
FRESHMAN—Ryan McKern, a biological sciences/pre-medicine major from Hoover, Alabama, and Katie Randall, a biochemistry/pre-medicine major from Starkville.
For more on 2023 Homecoming Week activities, follow the MSU Student Association on Facebook @MSUStudentAssociation, as well as @MSU_SA on Twitter and Instagram. For more information on MSU gameday activities, visit www.hailstate.com/gameday.
Mississippi State University is taking care of what matters. Learn more at www.msstate.edu.