Contact: Bethany Shipp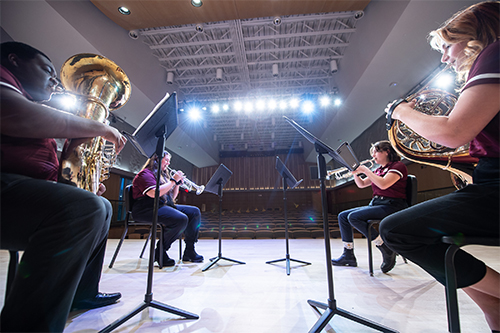 STARKVILLE, Miss.—A new music performance degree program builds upon Mississippi State University's long-standing tradition of providing students with a comprehensive education in the arts.
Introduced this fall, MSU's Bachelor of Music in Performance degree prepares students for careers as professional musicians or music studio teachers, or for advanced graduate studies in music. As the demand for creative skills continues to increase in today's job market, this degree program equips students with the training to succeed in a competitive field while fostering creativity and artistic growth.
Professor and Department of Music Head Daniel Stevens said, "We are excited to increase our impact on the music field with the development of this integral new Bachelor of Music in Performance degree which will improve student proficiency across the entire department and inspire department growth by recruiting a new type of student focused on professional performance. It will lead them toward higher education professions, teaching in conservatory applied studios or impacting music patrons worldwide on the concert stage. MSU is also proud to continue leading P-12 licensure for music through the Bachelor of Music Education and Master of Music Education degrees and provide complementary general music study through the Bachelor of Arts in Music degree."
Housed in MSU's College of Education, the Department of Music offers four concentrations in music performance: guitar, instrumental, keyboard and vocal. The curriculum emphasizes the development of technical proficiency, artistic expression and a deep understanding of music history and theory. Students gain hands-on experience through performance and collaborative projects while honing their skills as musicians.
Teresa Jayroe, dean of the College of Education, said, "This new degree underscores MSU's commitment to nurturing the next generation of artists. Our goal is to empower our students with both knowledge and practical experience, ensuring they leave MSU as well-rounded professionals, ready to make a mark in the global music arena."
Serving more than 1,000 students, including 150 music majors, the Department of Music celebrated the opening of its state-of-the-art, 37,000-square-foot facility in fall 2022.
MSU's College of Education is home to five academic departments, a division of education, one research unit and numerous service units. Learn more about the Bachelor of Music in Performance degree at https://www.music.msstate.edu/. The College of Education is online at www.educ.msstate.edu.
Mississippi State University is taking care of what matters. Learn more at www.msstate.edu.