Contact: Sarah Nicholas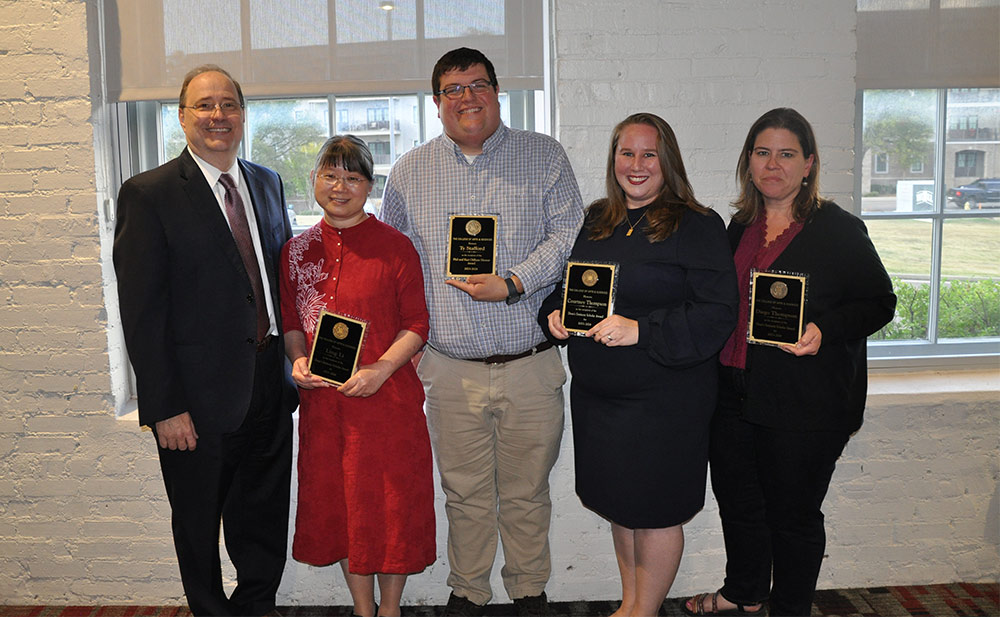 STARKVILLE, Miss.—The College of Arts and Sciences announces three new recipients of the Dean's Eminent Scholar Awards as well as a faculty mentor award, all honoring "exceptional faculty" whose accomplishments in teaching, research and service have enhanced the quality and stature of Mississippi State's academic programs.
"Exceptional faculty are the cornerstone of a thriving academic community. As we celebrate this year's faculty award recipients, we recognize not only their outstanding achievements but also their unwavering dedication to research. Their commitment to excellence sets an example for us all," said CAS Dean Rick Travis, who presented the awards during a recent faculty meeting.  
Ty Stafford, assistant clinical professor of psychology, Phil and Kari Oldham Faculty Mentor Award
"Dr. Stafford is a highly deserving recipient of this award," said Mitchell E. Berman, professor and head of the Department of Psychology. "When he was a staff psychologist at the Student Counseling Center, he was an outstanding mentor to graduate students and psychology interns from across the country who worked there. He is now about to take over as the program director for our American Psychological Association accredited doctoral program in clinical psychology, and will be responsible for approximately 40 graduate students training to become licensed professional health service psychologists. Dr. Stafford is a dedicated mentor who adheres to the highest ethical and professional standards in this role. I am grateful for his leadership and his contributions to the department and college."
Ling Li, associate professor of biological sciences, Dean's Eminent Scholar award for the natural and physical sciences
"Dr. Li's work is notable for its emphasis on both scientific knowledge and application," said Angus Dawe, professor and head of the Department of Biological Sciences. "Her team is exploring areas that provide basic knowledge of plant biology, while also using that knowledge to provide for technological approaches to crop enhancements. That basic and applied research is continuing to provide new opportunities for funding from both the public and private sectors, and also numerous opportunities for student training and development. Her productivity and success means this award is thoroughly deserved."
Courtney Thompson, associate professor of history, Dean's Eminent Scholar award for the humanities
"Dr. Thompson's work is well regarded among her professional peers––even prize winning," said Alan Marcus, professor and head of the Department of History. "She is only one of two faculty members at Mississippi State to win a National Endowment for the Humanities Summer Scholar award. Her new book continues to add to the profession. Its focuses on the emotions of later 19th-century physicians and how those emotions may have affected the provision of health care. It is not something we know much about but Thompson's work promises to correct that deficit."
Diego Thompson, assistant professor of sociology, Dean's Eminent Scholar award for the social sciences
"Dr. Diego Thompson's research has changed the ways that rural sociologists understand the resilience of rural communities facing economic and ecological change and has made vital contributions to understanding the experiences of rural farmworkers, including in the state of Mississippi," said Rachel Allison, associate professor and associate department head in the Department of Sociology. "Since joining MSU, Dr. Thompson has published in many top outlets in the discipline and earned more than $2 million in grant funding, including awards from the National Institute of Food and Agriculture, the U.S. Department of Agriculture, and the National Science Foundation. He is a valuable member of our department and we are delighted to see him recognized for the excellence of his scholarship."
MSU's College of Arts and Sciences includes more than 5,000 students, 323 full-time faculty members, nine doctoral programs, 14 master's programs, and 27 undergraduate academic majors offered in 14 departments. It is home to the most diverse units for research and scholarly activities, including natural and physical sciences, social and behavioral sciences, and the humanities. For more details about the College of Arts and Sciences, visit www.cas.msstate.edu.
MSU is classified by the Carnegie Classification of Institutions of Higher Education as a "Very High Research Activity" doctoral university, the highest level of research activity in the country.  MSU is one of only 120 schools to hold the designation.
Mississippi State University is taking care of what matters. Learn more at www.msstate.edu.