Contact: Allison Matthews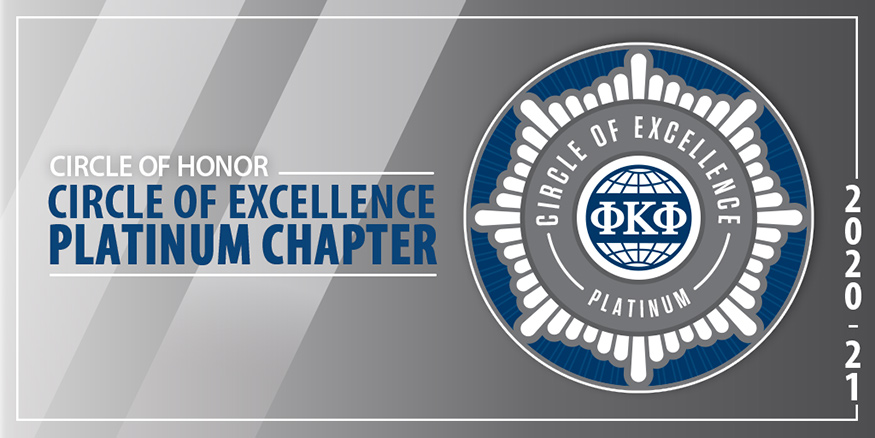 STARKVILLE, Miss.—Mississippi State's chapter of Phi Kappa Phi has achieved the highest level of recognition with a "platinum designation" Circle of Excellence Award by the nation's oldest and most selective collegiate honor society for all academic disciplines.
The 2020-2021 honor marks the first time the university has achieved platinum designation as part of the national awards program, which recognizes chapters for their work in promoting excellence at their institutions and engaging the community of scholars. The award criteria include information about yearly initiation efforts and other chapter activities. For the past two years, MSU achieved the silver designation.
"We are proud to accept this award as the faculty, students and staff whose collaborative efforts continue to make the chapter of PKP at Mississippi State University excellent in all aspects. We look forward to a strong future together continuing to embrace the light of learning," said Scott Rush, MSU associate professor of wildlife, fisheries and aquaculture and president of MSU's PKP chapter.
Founded in 1897, Phi Kappa Phi awards nearly $1 million each year to outstanding students and members through graduate fellowships, study abroad grants, member and chapter awards, and grants for local, national and international literacy initiatives.
Membership is by invitation only to the top 10 percent of seniors and graduate students and 7.5 percent of juniors. Faculty, professional staff and alumni who have achieved scholarly distinction also qualify. The honor organization draws members from all academic disciplines within colleges and universities.
For more information, visit www.phikappaphi.org; for the MSU's Phi Kappa Phi chapter, see www.pkp.org.msstate.edu.
MSU is Mississippi's leading university, available online at www.msstate.edu.