Contact: Sarah Nicholas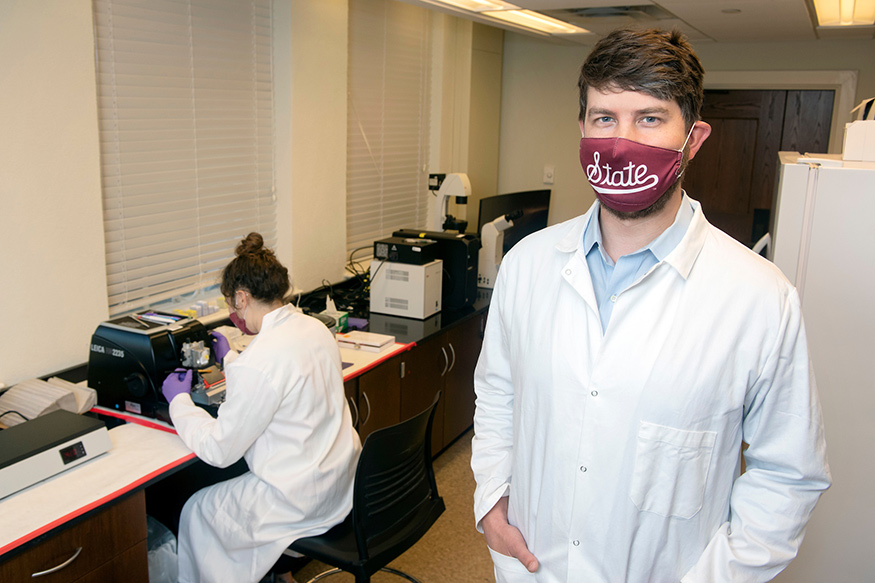 STARKVILLE, Miss.—An assistant professor in Mississippi State's Department of Biological Sciences is the recipient of more than $870,000 from the Faculty Early Career Development (CAREER) Program, one of the National Science Foundation's most prestigious awards in support of early-career faculty.
Andrew K. Lawton, an MSU faculty member since 2019, will use the five-year grant to initiate research on brain development—specifically how the brain folds during development. He also will incorporate the research into a special course for undergraduate students and provide a refresher course for local educators.
CAREER awards recognize faculty members with potential to serve as academic role models in research and education and to lead advances in the mission of departments or organizations.
"We are thrilled Dr. Lawton has received this recognition that is regarded as the most prestigious available from this agency to early career faculty," said Angus L. Dawe, the Dr. Donald L. Hall Professor of Biology and head of MSU's biological sciences department.
Lawton is researching how the amount and pattern of brain folding is set within and between species, how tissue tension is regulated within the folding cerebellum and how it shapes the folds as they are created. Lawton's research also will investigate how the fluidity in the outer layer of the cerebellum shapes the folds and directs the compartmentalization of the circuitry.
"People study many types of tissue folding, but the brain is unique being both globular and fibrous—including cell bodies and axons and dendrites," Lawton said.
Currently, insufficient developmental data exists regarding brain folding during development, Lawton said, because "it is tricky and expensive" to obtain folded cerebral cortical, or outer layer, tissue.
"We are developing the mouse cerebellum as a less expensive and more tractable model to discover how the human brain folds itself. The cerebellum processes all of our motor movement and proprioception and motor memory. It is also involved in processing some of the higher cognitive functions more associated with the cortex," said Lawton.
Holli Seitz, director of The Message Laboratory in MSU's Social Science Research Center and an assistant professor in the communication department whose work is focused on science communication, will join Lawton in team-teaching a course for undergraduates based on the research Lawton is exploring with his CAREER grant. The course, Fundamentals of Science Design and Communication, begins spring 2022.
"In the course, we will learn about building and testing hypotheses by reading science. Holli will lead the students in learning how to communicate that science to their non-science peers—it will involve writing and mixed media presentations. The class also will have a lab component where the students will participate in collecting data for the grant," Lawton said.
As part of the CAREER award collaborative effort emphasis, Lawton plans to partner with Armstrong Junior High School in the Starkville Oktibbeha School District to provide science experience "refresher" courses for AJHS science teachers.
"Each year we are bringing one teacher to join us in the lab and participate in the research for four weeks. We will develop supplemental teaching modules to support their current curricula and also will send an undergraduate or graduate student once a year to help lead the modules in the classroom," Lawton said. "We believe this will help the teacher and inspire the students by knowing a bit more about some of the research happening in their hometown.
Lawton credits Giselle Thibaudeau, associate dean for research in the College of Arts and Sciences, along with her team, for helping him secure the grant. "It was a team effort," said Lawton, who holds a Ph.D. and master's degree from Yale University and a bachelor's degree from Clemson University.
MSU's College of Arts and Sciences includes more than 5,000 students, 325 full-time faculty members, nine doctoral programs, 14 master's programs, and 27 undergraduate academic majors offered in 14 departments. For more details about the College of Arts and Sciences or the Department of Biological Sciences visit www.cas.msstate.edu or www.biology.msstate.edu.
MSU is Mississippi's leading university, available online at www.msstate.edu.