Contact: Sasha Steinberg
STARKVILLE, Miss.—The talented staff behind the Mississippi State University Television Center-produced documentary "It's a Journey" are seeing their hard work rewarded with four 2021 Southeast Emmy Awards.
Virtually presented Saturday [June 19] by the Southeast Chapter of the National Academy of Television Arts and Sciences, the honors recognize excellence in television programming in the Alabama, Georgia, Mississippi, South Carolina and Asheville, North Carolina Southeast Region. MSU's awards were selected from more than 1,200 entries.
The "It's a Journey" documentary, a winner of the Environment/Science – Short Form Content category, focuses on land conservation efforts in rapidly urbanizing counties on the Gulf Coast.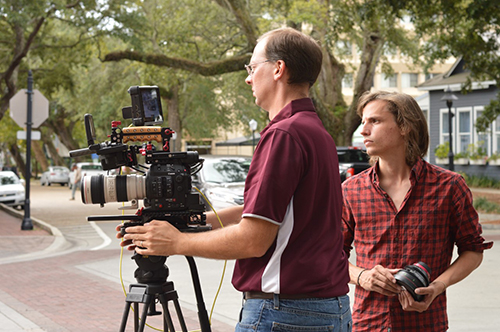 UTC staff members also received individual awards for the project. UTC Senior Producer James Parker is winner of both the Photographer – Long Form Content and Editor – Long Form Content categories, and UTC Creative Manager Hal Teasler is a winner of the Graphic Arts/Motion Graphics category.
"The past year has been one of incredible challenges for television content creators," Southeast NATAS Chapter President Evelyn Mims said. "The restrictions imposed by the pandemic called for journalists and producers to bring their very best in service of the public and demanded they continue to create work at the most professional levels despite these hurdles. All you have to do is look at the 1,227 entries and the 141 Emmy honorees to know—they more than met that challenge."
"The University Television Center staff is an important part of Mississippi State's storytelling apparatus," said Sid Salter, MSU's chief communications officer and director of the MSU Office of Public Affairs, which administers UTC. "The Television Center has evolved from simply producing video content for clients to producing unique films that enable MSU to share our research and service missions with the world. These multiple Regional Emmy awards represent professional recognition that is richly deserved. I'm very proud of the work our Television Center does for the university."
The "It's a Journey" documentary is part of MSU Films, the TV Center's high-end short film production initiative, which is a partnership with Mississippi State's Office of Public Affairs.
David Garraway, UTC director and the award-winning documentary's executive producer, said the Southeast Emmy honors are a peer recognition of the TV Center's storytelling and creative abilities.
"We are thankful for the support and encouragement we have received from university administration and leadership as we build MSU Films into a premier documentary production unit," Garraway said.
MSU's UTC also earned a prestigious 2021 Regional Edward R. Murrow Award in May.
MSU is Mississippi's leading university, available online at www.msstate.edu.