Contact: Sarah Nicholas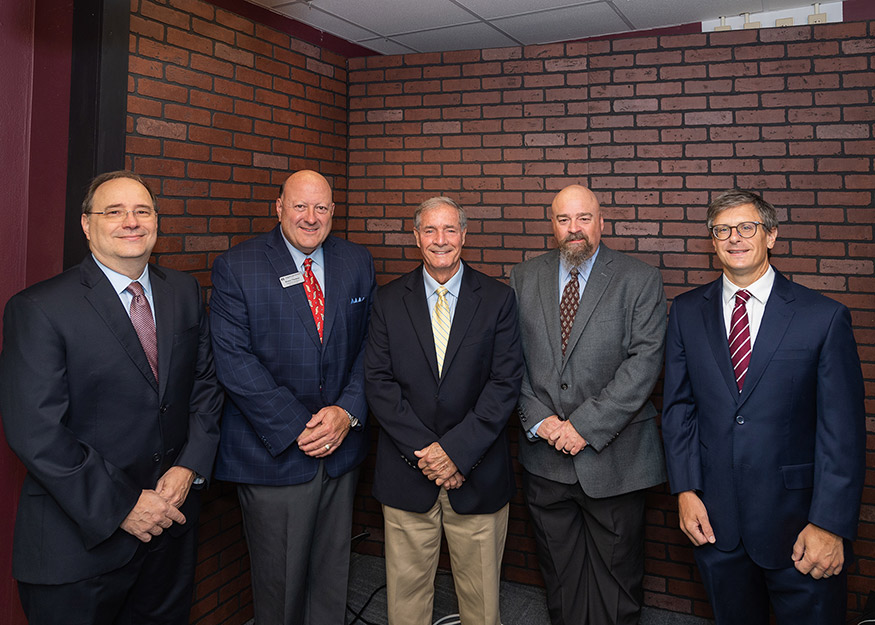 STARKVILLE, Miss.—Mississippi State Professor Michael E. Brown, a longtime faculty member in the university's Department of Geosciences, has been named the inaugural recipient of the Dr. Charles L. Wax Endowed Climatology Faculty Fellowship—the first fund of its kind for the College of Arts and Sciences.
Endowed in December 2020 with a $100,000 gift from former MSU student Bruce Thomas—who today is the chief meteorologist for the News-Press Gazette TV station in Saint Joseph, Missouri, and a consultant for Weather2020—the fellowship is named in honor of Professor Emeritus Charles L. Wax, a former geosciences department head and faculty mentor for both Thomas and Brown. In addition to celebrating the fellowship, Thomas also was on campus in recent days as an Alumni Fellow.
One in three of today's on-air broadcast meteorologists is a graduate of MSU's nationally recognized broadcast meteorology program, which Wax helped establish. In 1979, the Starkville native created and taught the first program course, Introduction to Meteorology, and he continued until his 2013 retirement after 35 years of service.
MSU Provost and Executive Vice President David Shaw, College of Arts and Sciences Dean Rick Travis and Department of Geosciences Department Head John Rodgers selected Brown as the inaugural recipient of the prestigious honor .
"It is an extraordinary honor to be the first recipient of the Dr. Charles Wax Endowed Climatology Faculty Fellowship," Brown said. "Dr. Wax was a pillar in our department and, to this day, I consider him a close friend and mentor. I don't believe there is any award that could mean more to me than this one with his name on it.  The fact that Bruce Thomas was compelled to provide the support to endow this award is a testament to the bond that Dr. Wax created with his students and colleagues. Mr. Thomas and Dr. Wax are two exceptional men, and I am honored to be linked to them through this award."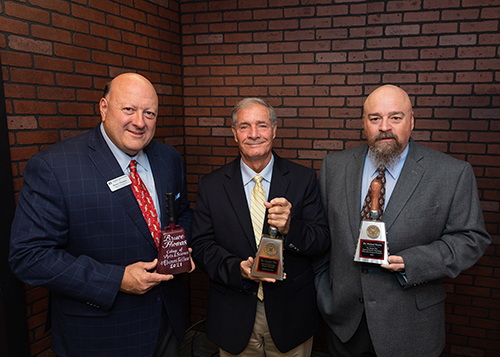 A native of Sherrard, Illinois, Brown is Mississippi's state climatologist, serving local and state government entities while also participating in research to enhance the safety of Mississippians. 
In 2010, Brown and then-state climatologist Wax developed a hazard mitigation plan for the university, still in use today by MSU and other public universities and colleges. During severe weather events, Brown works with MSU's Crisis Action Team to ensure warnings and safety information are shared with the community. He also frequently monitors the weather for university athletic events.
Brown trains the next generation of weather professionals in his MSU radar meteorology, mesoscale meteorology, advanced mesoscale meteorology and field methods/storm chasing courses.
He earned his Ph.D. in 2000 from the University of North Carolina at Chapel Hill, his master's in 1995 from MSU, and his bachelor's degree at Western Illinois University in 1991. Brown joined MSU's faculty in 1999.
The geosciences department also provides an operational meteorology program, which today regularly places graduates with the National Weather Service, private consulting firms, military branches and educational programs. The current director of the National Hurricane Center, Kenneth Graham, is a 1994 graduate of MSU's meteorology program.
MSU's Department of Geosciences teaches more than one-third of the university's distance learning credit hours and is the only educational entity in the state that combines climatologists, geographers, geologists, geospatial experts and meteorologists in one department. For more information, visit www.geosciences.msstate.edu.
The Dr. Charles L. Wax Endowed Climatology Faculty Fellowship is an open fund with the MSU Foundation. To contribute to the fellowship fund, contact Sara Frederic, director of development for the College of Arts and Sciences, at 662-325-3240 or email sfrederic@foundation.msstate.edu.
For more details about the College of Arts and Sciences, visit www.cas.msstate.edu.
MSU is Mississippi's leading university, available online at www.msstate.edu.