Contact: Grace Jones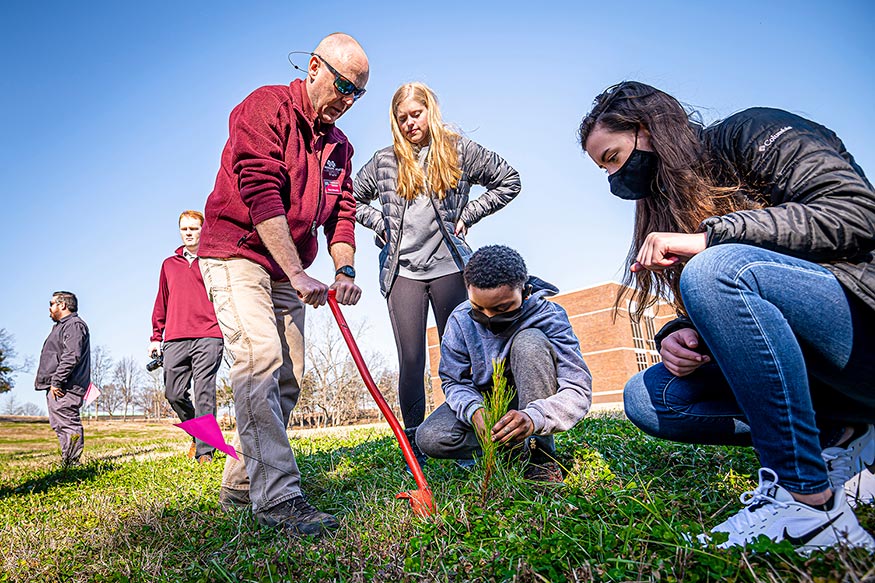 STARKVILLE, Miss.—Mississippi State faculty, staff and students commemorated Arbor Day today [Feb. 11], along with the Partnership Middle School, by planting about 45 loblolly pine seedlings at the school on the MSU campus.
Taking part in the Arbor Day ceremony and tree planting were undergraduate and graduate members of MSU's student chapter of the Society of American Foresters, Waldorf Scholarship recipients and middle school students. The trees eventually will create a privacy screen that separates the school from adjacent privately owned property. The 10th annual Arbor Day Celebration is sponsored by the MSU Tree Campus Higher Education Advisory Committee, the Partnership Middle School and the university's Campus Landscape Services.
"This year's planting will benefit both the school and nearby landowners by providing them with a year-round privacy screen," said Joshua Granger, assistant professor of forestry and committee chair.
"It is important for us to recognize how trees impact us as individuals and as a society. Trees are such a big part of our life—we utilize them for everything, from the chairs we sit in to the air we breathe, and they are a defining feature on our campus landscapes. It's special that we're able to plan for our future and have students out planting trees that will be here for subsequent generations of students," he said. "While the Arbor Day Celebration only lasts about an hour, I hope the impact will be much longer."
Granger explained that Mississippi forests are essential to the state's economic and environmental vitality. In fact, forest-related economic activity generates more than 60,000 jobs and over $2.96 billion in income in the Magnolia State.
For more information about the Tree Campus Higher Education Advisory Committee, contact Granger at joshua.j.granger@msstate.edu or 662-325-0596. For more on the Department of Forestry, visit www.cfr.msstate.edu/forestry. The College of Forest Resources can be found at www.cfr.msstate.edu. Learn more about the Partnership Middle School at https://www.starkvillesd.com/the-partnership-school/index.
MSU is Mississippi's leading university, available online at www.msstate.edu.