Contact: Allison Matthews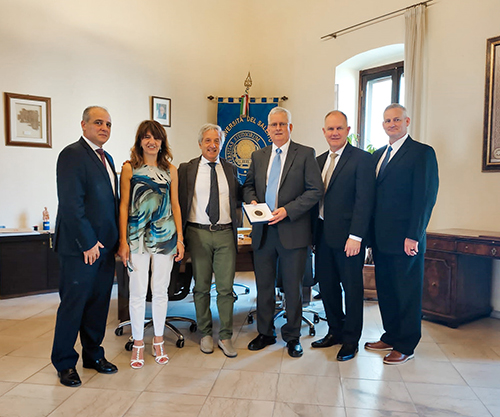 STARKVILLE, Miss.—A new partnership between Mississippi State University and Italy's University of Salento will benefit both institutions as faculty work together advancing solutions to global food supply challenges through digital technology and smart agriculture.
University of Salento Rector Fabio Pollice and Vice Rector Maria Antonietta Aiello recently met with MSU Associate Vice President for International Programs Dan Reynolds, High Performance Computing Collaboratory Director Trey Breckenridge and Professor Alex Thomasson, head and endowed chair in MSU's Department of Agricultural and Biological Engineering. MSU Senior Advisor for European and Data Science Development Domenico "Mimmo" Parisi also was part of the MSU delegation visiting Lecce, Italy. A reciprocal visit by the Salento leaders to Mississippi and MSU is planned for late summer or early fall.
The institutions plan a digital technology and sustainable agriculture workshop next semester in Salento with an additional spring event involving faculty from both universities. Among the collaborative work will be MSU's involvement in addressing Xylella, a bacteria that has killed olive trees in the Salento region.
MSU Provost and Executive Vice President David Shaw said both entities are welcoming the new alliance and looking forward to the productivity that will result.
"My colleagues at MSU enjoyed their recent visit and returned with enthusiasm about the opportunity to establish a sustainable partnership with the University of Salento. I find the topic of digital technology and smart agriculture extremely important to meet the increased demand for high quality production of foods while we also preserve our environment and natural resources," Shaw said.
"I look forward to learning more from scientists at the University of Salento and the visit of Rector Pollice to our university. I believe in this partnership because it creates opportunities for our students to become international citizens and for faculty to deepen their scientific collaboration with peers in different contexts," he continued.
Rector Pollice described the recent meeting as "a very fruitful cognitive meeting which gave us the opportunity to illustrate and compare resources and skills."
Of the mutual topics of interest, Pollice referred to smart technologies for sustainable agriculture as "a theme of fundamental importance for our territory, which will therefore be able to make use of a strategic partner for international projection, with undoubted positive repercussions also for the training of our students."
Learn more about the University of Salento at https://www.unisalento.it/.
MSU is Mississippi's leading university, available online at www.msstate.edu.