Contact: Meg Henderson
STARKVILLE, Miss.—After attending a local animal show, 5-year-old Alexandra Pittman asked her mother and stepfather to buy her a piglet. Twenty years and numerous 4-H-related events later, she is now one of the youngest college livestock judging team leaders in the country.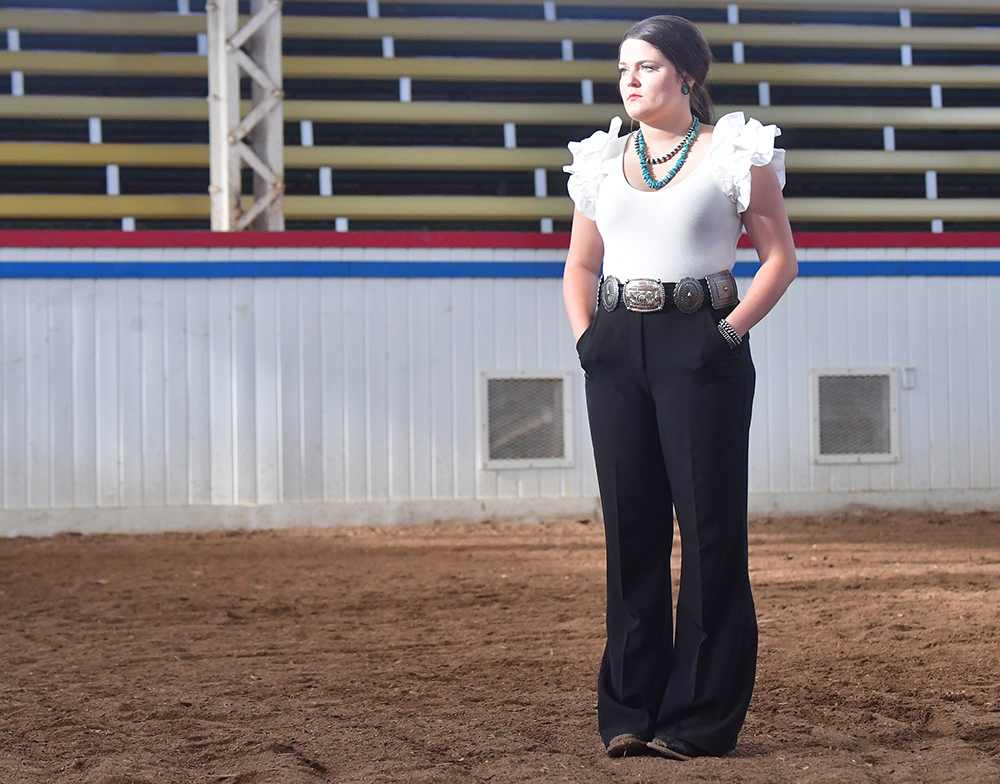 At 25, the Petal native now leads the Mississippi State Livestock Judging Team after graduating with an undergraduate degree in Animal and Dairy Science in 2019 and a Master of Science in Agriculture degree with a concentration in Animal Science two years later. She originally intended to enroll in MSU's vet school after completing her undergraduate degree, but her experiences as a livestock judging team member and as a member of the Collegiate Cattlemen's Association changed her academic trajectory.
"Joining the Collegiate Cattlemen's Association and having an officer role gave me a new outlook and direction on my studies and what I wanted for a career," said the former high school 4-H chapter president. "It gave me opportunities to learn more both about the industry and about myself."
Along with her coaching role, Pittman is also a classroom instructor in the College of Agriculture and Life Sciences' Department of Animal and Dairy Sciences. She received her first taste of teaching last year when she co-taught a livestock evaluation class with Brandi Karisch, the Milton Sundbeck Endowed Associate Extension and Research Professor. She began teaching the course on her own in the spring and plans to add a course in sheep and goat production next semester.
"Teaching is not what I came here for, but I'm loving every second," she said.
Although there are just six undergraduates on the MSU Livestock Judging Team, Pittman hopes to grow the team over time. She sees her teaching role as a chance to engage with students about this opportunity.
"I'm looking forward to reaching students and instilling the passion that I have for judging," she said.
Pittman brings the same passion to her classroom, along with her academic knowledge and real-world experience.
"Judging livestock is not for everyone, but I want to help students grow an appreciation for this field," she said. "Going to vet school is a wonderful option, but we also need livestock producers and industry leaders."
Dating back to the 1920s, the Livestock Judging Team has a longstanding tradition at the university. Compared to other extracurricular clubs, the team is a major time commitment, with members practicing most days and spending an average of 36 weekends traveling to competitions annually. The team looks a little different a century later; what was once an all-male team now has many female members as well. However, the work ethic, professional experiences and strong friendships with teammates have been pillars of the program since its early days.
For more about the MSU Livestock Judging team, visit www.facebook.com/MississippiStateUniversityLivestockJudging. Learn about the Department of Animal and Dairy Sciences in the College of Agriculture and Life Sciences at www.ads.msstate.edu. To donate to the team through an MSU Foundation gift, visit www.ads.msstate.edu/students/organizations.php.
MSU is Mississippi's leading university, available online at www.msstate.edu.