Contact: Aspen Harris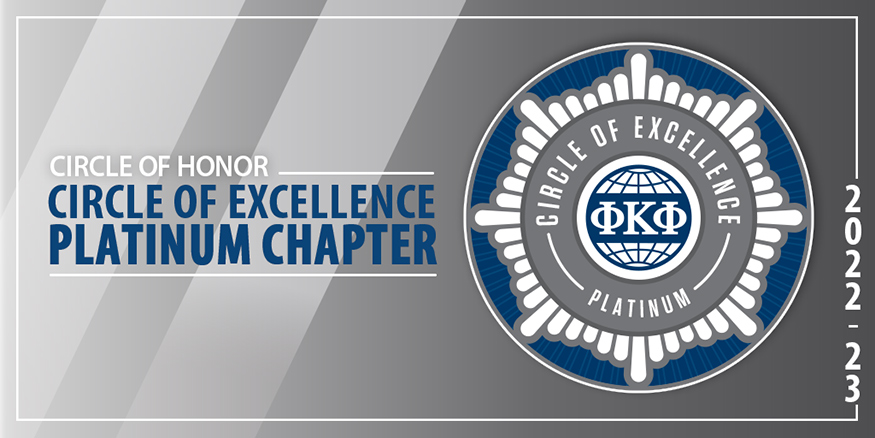 STARKVILLE, Miss.—Mississippi State's Phi Kappa Phi chapter once again is being nationally honored with a Circle of Excellence Platinum Award from the nation's oldest and most selective multidisciplinary collegiate honor society. The Platinum Award is the highest PKP honor given to a chapter.
MSU's chapter has been a Circle of Excellence winner for five consecutive years since the awards program's inception in 2018 and has been looked to as a national model by other university chapters across the country. The 2022-2023 award honors the MSU chapter as an excellent organization based on several criteria, including its yearly initiation efforts and activities.
MSU's PKP chapter and members have continued to bring recognition to the university with several achievements. Recently, MSU wildlife, fisheries and aquaculture doctoral student Rebecca Bracken was awarded with a PKP national Love of Learning Award; and MSU Professor Missy Hopper, a former PKP national president who also served terms in the president-elect and past president roles, was honored with a named dissertation fellowship. In recent years, the chapter has received a national Service Project Award, along with additional Circle of Excellence Platinum and Gold awards, among other honors.
Peter Ryan, executive vice provost and dean of the MSU Graduate School, serves as current MSU chapter president.
The honor society currently consists of approximately 25,000 members annually across 325 college campuses around the country, its territories and in the Philippines.
Founded in 1897 at the University of Maine, PKP awards nearly $1.3 million each year to students, members, chapters and institutions through fellowships, awards and grants.
Membership is open to students, faculty, staff and alumni by invitation only and is highly selective. Invitations are given only to the top 10 percent of seniors and graduate students and 7.5 percent of juniors, as well as faculty, staff and alumni with scholarly distinction that qualify.
For more on the national organization of Phi Kappa Phi, visit https://www.phikappaphi.org; for the MSU chapter of Phi Kappa Phi, see https://pkp.org.msstate.edu/index.php.
MSU is Mississippi's leading university, available online at www.msstate.edu.