Contact: Lily Grado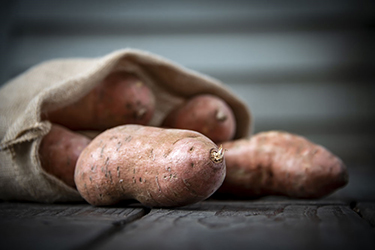 STARKVILLE, Miss.—A $4.8 million multi-state project led by Mississippi State is bringing together more than 30 national experts to address problems jeopardizing seed programs of a U.S. crop currently valued at $680 million.
University research and extension scientists from major sweet potato states are partnering on the multi-million CleanSEED Project to solve the industry's most important issues of viruses, pests and disease, all threatening sustainability of sweet potato seed programs. The research is funded by the U.S. Department of Agriculture's National Institute of Food and Agriculture.
"The threat of viruses, pests and disease in sweet potatoes was identified as a top priority by the National Stakeholder Advisory Committee at the U.S. Sweet Potato Convention in 2020," said Mark W. Shankle, an MSU plant and soil sciences research professor and project director.
The multilayered effort, developed from a workshop proposal with input from national sweet potato stakeholders, includes researchers from the universities of Arkansas, California and Hawaii, North Carolina State University, Louisiana State University, Cornell, the U.S. Department of Agriculture's Agricultural Research Service, Mississippi Crop Improvement Association and North Carolina Crop Improvement Association.
"We sought to address the research, education and outreach needs of the industry," Shankle said of the workshop, noting results of a national stakeholder survey were provided during the meeting to aid attendees in refining the industry's top-priority issues.
Shankle, also a scientist with MSU's Mississippi Agricultural and Forestry Experiment Station, said the CleanSEED Project addresses four focus areas legislatively mandated by the National Institute of Food and Agriculture's Specialty Crop Research Initiative. They include plant breeding, virology and pathology, pest management, communications and economics.
"We will be researching plant genetics to improve crop characteristics; addressing threats from pests and disease; improving crop production efficiency, productivity and profitability; and developing data-driven predictive tools using artificial intelligence," he said.
 Second-generation farmer David Ellison of Woodland partnered with MSU four years ago to begin using clean seed after a bad year with heavy virus loads resulting in significant yield loss.
"In 2016 and 2017, we experienced up to a 70% loss for no reason other than viruses. Since we started with clean seed and growing our own foundation slips, we've had incredible yield, consistent data and no problems whatsoever. Our yields of U.S. No. 1 grade sweet potatoes have been above average with 400 bushels and higher for the last four years," Ellison said.   
Helping more sweet potato farmers adopt clean seed technology through increased awareness and education is one of the short-term goals identified by the multidisciplinary research team. Through work with the six sweet potato Clean Plant Centers, part of the National Clean Plant Network, they also will enhance collaboration and engagement across the industry and standardize clean foundation seed terminology.
Improvement of best practices for efficient propagation strategies, virus reinfection reduction, and pest and disease management are additional goals, along with development of better virus detection methods in the field.
Mid-term goals include increased clean foundation seed adoption, use of uncrewed aircraft systems to detect virus-infected plants, and use of real-time polymerase chain reaction, or PCR, testing to detect specific viruses.
In the long-term, the scientists want to see wide adoption of clean foundation seed and best practices; abundant supply of economical clean foundation seed; and improved quality, yield and profitability of sweet potatoes across the U.S.
Ultimately, Shankle and the team aim to improve seed quality, yield and generational longevity of seed stock that remains virus free.
"With each generation of saved storage roots for seed, the risk of virus levels in the seed increases," he explained. "Depending on the virus type and level of infection, sweet potato yield can be reduced by more than 40%. That is why supplying growers with clean seed and implementing best management practices to minimize infection is so important."
Outcomes from the multistate project are expected to not only boost sweet potato production in the U.S., but aid food security globally. Information on the CleanSEED Project soon will be available on the U.S. Sweet Potato Council website at www.sweetpotatousa.org.