Contact: Emily Daniels
STARKVILLE, Miss.—A transformational project will double the size of Mississippi State's Center for Entrepreneurship and Outreach, also known as the E-Center, in McCool Hall, providing an even greater boost to the state's entrepreneurial ecosystem.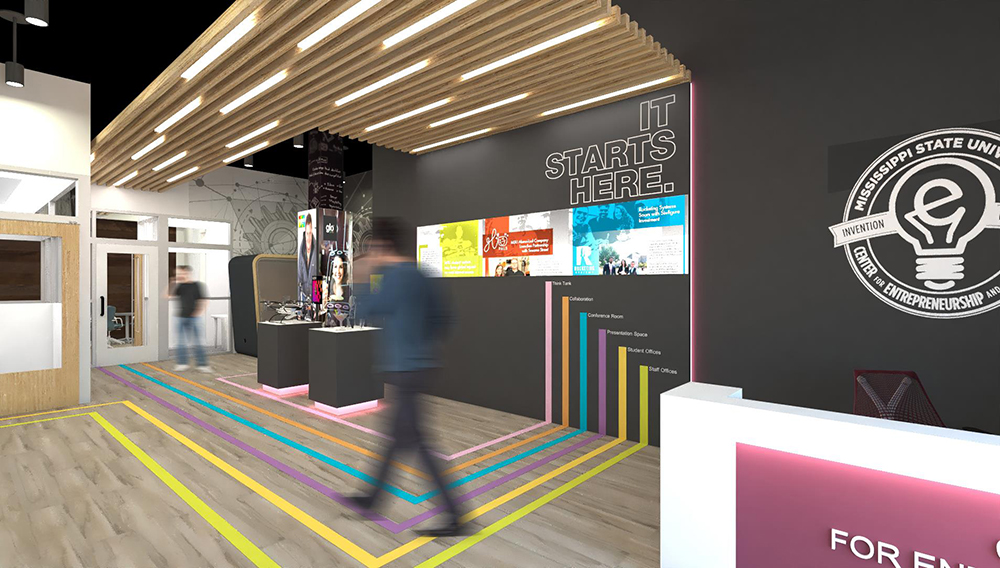 The E-Center, originally established in a small two-person office suite in 2009, has since grown to become a key resource for nurturing the entrepreneurial spirit across campus and the community. Housed in the College of Business, the center has garnered accolades nationally for its impactful programs and initiatives.
"Over a decade ago we made entrepreneurship a major priority in our college, and the E-Center has played a key role in our service to the entire university," said College of Business Dean Sharon Oswald, who retires this summer.
The expansion project, which includes a new entrance prominently accessible from the Leo Seal Atrium on McCool Hall's first floor, will add startup team rooms, expand meeting and conference spaces, and create a museum-like experience showcasing MSU startups.
"Too often, people discount the idea of starting a business, doubting their own capacity to become an entrepreneur. I love that this project really focuses on showing diverse stories of successful Bulldog founders, hopefully inspiring others to say, 'They did it; so can I,'" said E-Center Director Eric Hill.
Since its inception, the center has been the constant origin of an impressive alumni tech startup portfolio valued at over $35 million, collectively employing more than 40 individuals. The center also is home to the state's largest startup pitch competition.
The expansion aims to increase the E-Center's campuswide service directive. Plans include flexible faculty-in-residence offices, providing on-demand office space for any instructor of an innovation-related course to meet with students. The E-Center is expanding its mentor-in-residence programming, while also hosting alumni entrepreneurs for office hours on campus.
"The main focus, of course, is helping current and aspiring campus entrepreneurs, and those great ideas originate at all disciplines and edges of the university," Hill said. "The nuance of this expansion is that it's not only helping the student, but it's also providing support for faculty shepherding student innovators and positioning us to help them with what we do best—advising on strategy, execution and helping the venture find capital to launch."
This project is one of a series of initiatives rapidly expanding MSU's statewide entrepreneurial presence. The E-Center is finalizing a new coworking space in the Innovation Hub in downtown Starkville, slated to open this summer, and recently launched a satellite office and program in Vicksburg.
"None of this could happen without a handful of highly dedicated alumni and friends who have supported our vision for entrepreneurship," Oswald said. "Several champions have invested both time and financial support to help us realize our dream. It has truly been a great journey."
The expanded McCool Hall facility is set to open in January 2024, reinforcing MSU's commitment to a campuswide culture of innovation and entrepreneurial spirit.
Mississippi State University is taking care of what matters. Learn more at www.msstate.edu.