Contact: Harriet Laird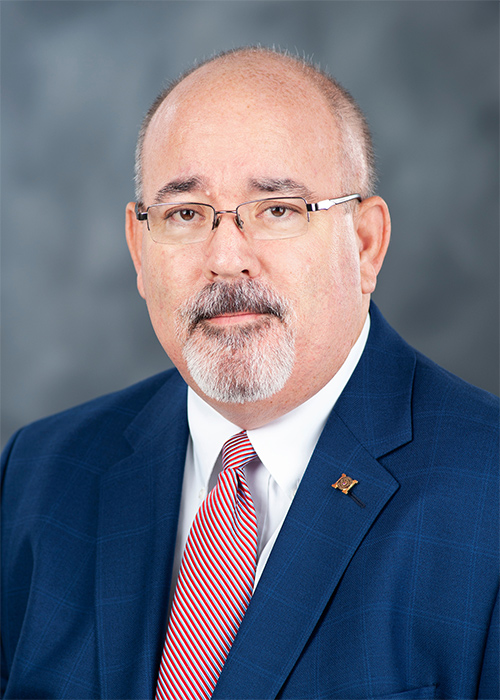 STARKVILLE, Miss.—Veteran Mississippi State University administrator Sidney L. "Sid" Salter has been promoted to Vice President for Strategic Communications at the land-grant research university as part of the ongoing university transformation initiatives.
Salter brings more than four decades of experience in Mississippi print, broadcast and digital journalism and multimedia management to the task in addition to experience in public affairs, marketing, corporate governance and crisis management. Since 2012, he served as Director of Public Affairs and Chief Communications Officer at MSU during a period of unprecedented growth under the leadership of MSU President Mark E. Keenum.
As vice president, Keenum said Salter will continue to serve as MSU's spokesman and chief communications officer. The vice president is also responsible for developing strategies and driving outcomes in the university's comprehensive marketing and branding efforts.
"Over the last 18 months, our university has completed a rigorous and thorough review of our future growth and development goals with the global management and marketing firm Prophet," said Keenum. "From that innovative partnership, we are implementing our transformation plan to take Mississippi State to the next level and tell our exceptional story to an even wider audience. I have confidence in Sid's unique skill set and commitment to MSU in leading this effort." Keenum said the university is also launching a search for a chief marketing officer as part of the reorganization.
Salter joined MSU in 2011 as the university's journalist-in-residence at the MSU Libraries and also taught courses in the Political Science and Communication departments. He wrote a successful biography honoring longtime MSU radio broadcaster Jack Cristil. The project funded the Jack Cristil Scholarship in MSU's Department of Communication, which annually assists MSU students seeking a career in broadcast journalism.
At MSU, Salter represents the university on the board of directors of University Press of Mississippi, the state's academic press. He chairs the Special Events and Game Day Committee, the Symbols, Licensing and Trademarks Committee, and serves on MSU's Executive Council, Athletics Council, Information Technology Council, Executive Enrollment Management Committee, and the President's Committee on Planning.
"Communication is a team enterprise. I'm honored to serve my alma mater along with an incredibly talented group of communicators in the Office of Public Affairs and marketers across this vital university," said Salter. "I'm excited about the challenges before us as we continue to strive every day to advance Mississippi State and grateful to Dr. Keenum for this opportunity."
A Philadelphia, Miss. native, Salter's career in journalism began in 1973 at the age of 14 at radio station WHOC-AM. Salter was a John C. Stennis Scholar in Political Science at MSU. At age 24, he became publisher and editor of the Scott County Times in Forest. He continued in that role before leaving to become the Sunday op/ed section editor at the Clarion-Ledger in Jackson in 2001. He was honored in 2004 as MSU's National Alumnus of the Year. He received the Agriculture Ambassador Award from the Miss. Farm Bureau Federation in 2006.
A longtime syndicated political columnist, he is a member of the Mississippi Press Association Hall of Fame. Since 1997, Salter has served on the board of directors of Community Bancshares of Mississippi, a multi-bank holding company doing business in Ala., Fla., Miss., and Tenn. as Community Bank. He is chairman of the corporation's Audit Committee.
A past president of the Starkville and Forest Rotary Clubs and a Paul Harris Fellow, Salter has served on the boards of directors of the MSU Alumni Association, the G.V. "Sonny" Montgomery Foundation, the Miss. Economic Council, the Mississippi Press Association and the Miss. Chapter of the National Multiple Sclerosis Society. He is president-elect of the Natchez Trace Council, Boy Scouts of America, serving 22 North Mississippi counties and a recipient of BSA's Silver Beaver Award.
Salter and his wife, Leilani, are the parents of four grown children and have nine grandchildren. They are members of First United Methodist Church in Starkville.