Contact: James Carskadon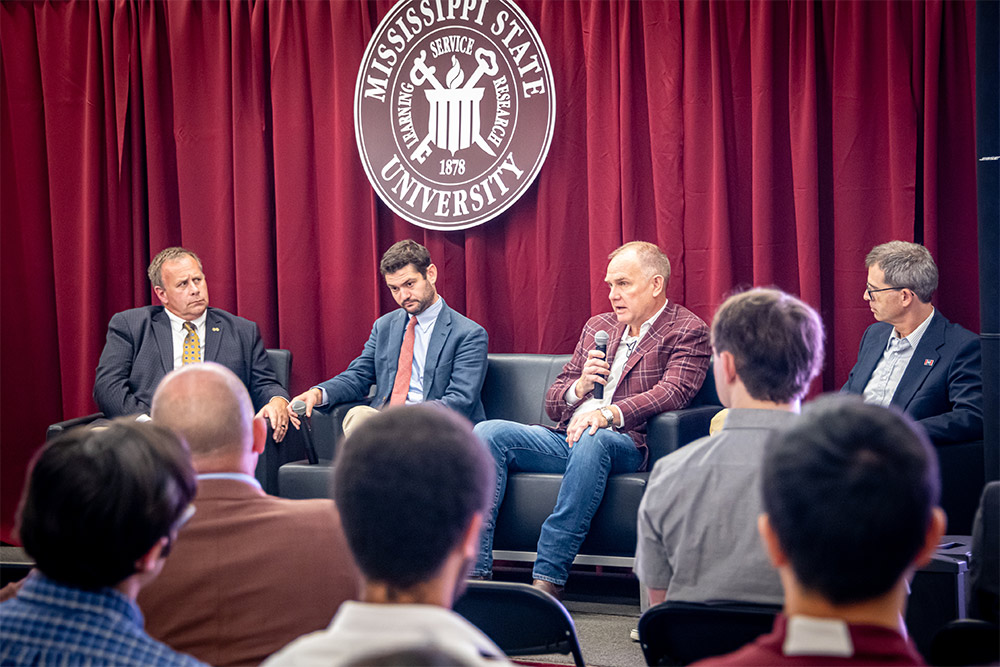 STARKVILLE, Miss.—The farm of the future is being created at Mississippi State University.
MSU officials on Thursday [Oct. 26] officially opened the Agricultural Autonomy Institute, the nation's first and only interdisciplinary research center focused on autonomous technologies to enhance on-farm precision and efficiency.
The Agricultural Autonomy Institute builds on and expands MSU's longstanding precision agriculture efforts and history of innovation in the field. The institute serves as a hub for researchers across campus interested in technologies such as robotics, artificial intelligence and remote sensing that have potential to increase agricultural precision, production and profitability.
Alex Thomasson, Agricultural Autonomy Institute director and head of MSU's Department of Agricultural and Biological Engineering, said autonomous technologies can reduce the impact of labor shortages by making farm workers more efficient with the aid of novel systems.
"Autonomous systems multiply the productivity of a single farm worker such that they can oversee multiple machines and operations simultaneously," Thomasson said. "Overall, the goal of the institute is economic development. We want to attract agricultural equipment companies, and we want to conduct research that leads to technology-based startup companies. We want to develop a new workforce that will have the ability to work in this new world of robotics, mechatronics and computer coding. I really hope to see Mississippi become the Silicon Valley of agricultural autonomy."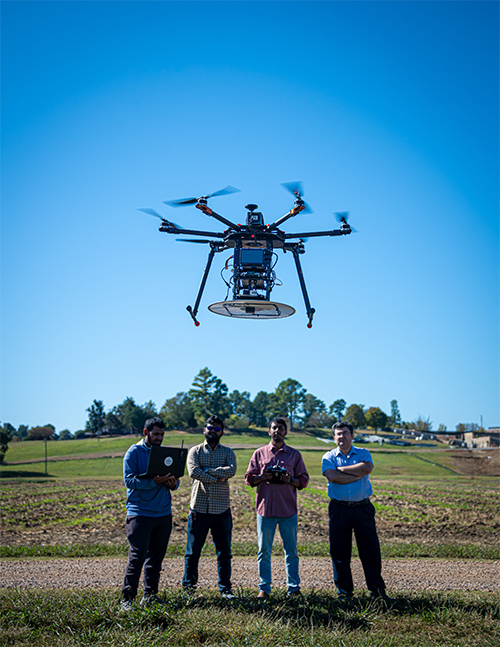 The research infrastructure for the institute includes a 4,800-square-foot laboratory space in the Pace Seed Technology Laboratory and a five-acre "Autonomous Acres" proving ground at MSU's R.R. Foil Plant Science Research Center. The institute is jointly managed by the university's Office of Research and Economic Development and the Division of Agriculture, Forestry and Veterinary Medicine, with support from the Bagley College of Engineering, the College of Agriculture and Life Sciences, the Mississippi Agricultural and Forestry Experiment Station and other MSU institutes, research centers and departments.
Julie Jordan, MSU vice president for research and economic development, noted the collaborative and interdisciplinary culture of research at MSU, with existing research focus areas and faculty efforts that are poised to accelerate the new institute's impact.
"Our centers and institutes are structured to bring people and disciplines together to solve problems," Jordan said. "That's where the magic is made and that's where we can really accelerate the work that's happening in the classrooms, in the laboratories and at the fundamental research level and get it out into the world to solve problems."
For decades, National Science Foundation rankings have placed MSU among the top universities nationally for agricultural research and development expenditures. In the most recent rankings, MSU is No. 11. Keith Coble, vice president for the Division of Agriculture, Forestry and Veterinary Medicine, said MSU's ag research has consistently evolved and modernized to stay at the forefront of innovation.
"At MSU, we're building a new supercomputing center on the bluff overlooking North Farm, and I think that's kind of emblematic of where we are today," Coble said. "Agriculture, in its most basic form, is the same that it's always been. But yet we are in a world where we have to change and adapt. Competitors have made it their agenda to catch the U.S. and surpass us in industrial policy in agriculture. I think this institute is part of what we have to do to maintain our leadership not only nationally, but internationally as well."
Examples of MSU's agricultural autonomy research efforts include using robots to harvest crops such as cotton. An interdisciplinary team is also studying how cows respond to robotic herders. In the years leading up to the institute's launch, a team of approximately 40 researchers across campus established an agricultural autonomy working group.
Mississippi State University is taking care of what matters. Learn more at www.msstate.edu.