Contact: Aspen Harris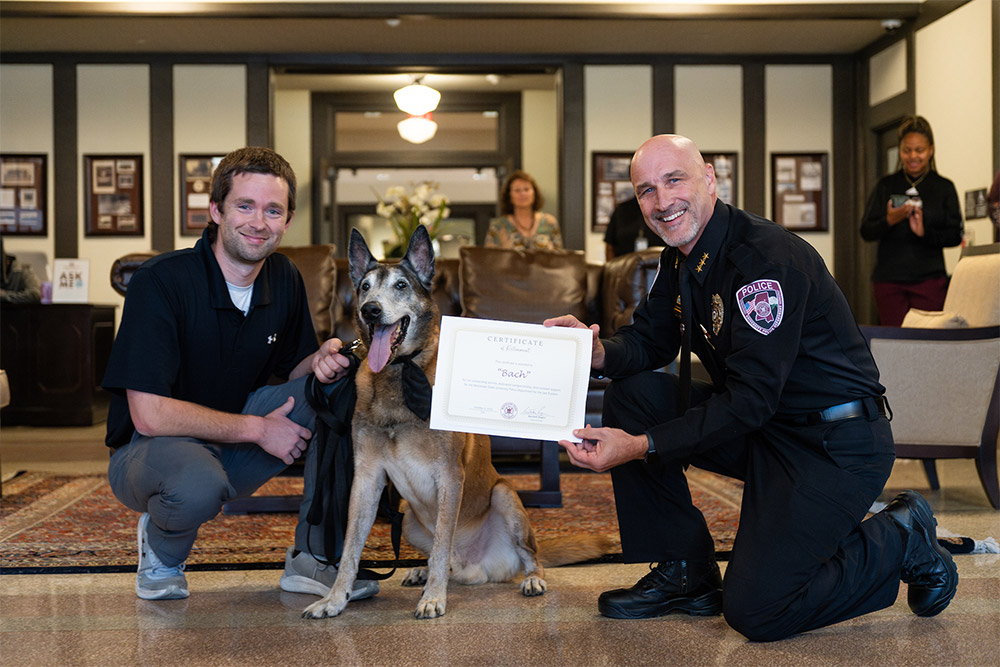 STARKVILLE, Miss.—The Mississippi State University Police Department is celebrating the first-ever retirement of a police dog from its K-9 unit.
Bach, a 10-year-old Belgian Malinois, was retired by MSUPD after nine years of service as a dual-purpose explosive and patrol detector K-9 during an on-campus ceremony Monday [Oct. 9].
Bach performed pre-event sweeps at the university, answered threatening calls on campus and even patrolled—all with his handler, former Sergeant Wesley Bunch. He also helped with tracking, apprehension and handler protection.
MSU Assistant Chief of Police Brian Locke said Bach swept an estimated 400 campus events and responded to over 40 bomb threat calls throughout his career, as well as numerous calls to support local city and county law enforcement.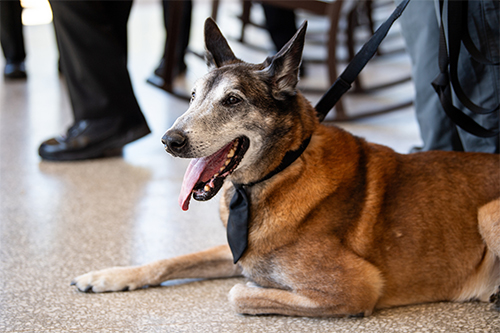 "I know for me personally and everybody here, we're super proud of Bach and our K-9 unit, and the things they do to help a lot of people," Locke said.
During his career, Bunch said Bach even received accidental fame. During an MSU home football game, Bach's barking in disdain for the stadium's fan noise received national TV air time.
"After the game I found out Bach and I had been standing right beside an ESPN microphone, and his barking had been blaring over TV sets across America," Bunch said. "I later got screenshots of people complaining on Twitter, Facebook and Reddit about what they thought was the stadium playing a barking noise to distract the other team. Some people even accused the announcers of calling the game from their homes, stating that they could hear their dog barking in the background."
As part of his retirement, Bach received a certificate and an official change of ownership from MSUPD to Bunch, also the dog's family of seven years.
Fellow canine colleagues celebrated Bach's retirement as well, including other MSUPD K-9s, a Starkville Police Department K-9 and MSU's 22nd "Bully" mascot, Dak.
MSU's Regina Hyatt, vice president for student affairs, the division which houses MSUPD, also attended the ceremony. She said MSUPD K-9s serve many important roles on campus.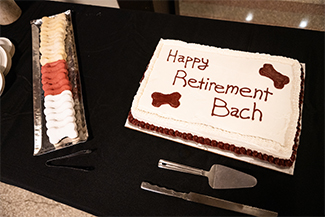 "I love that we have police dogs. They obviously not only serve a really important law enforcement function, but they are also wonderful ambassadors for the police," Hyatt said. "Students have many different feelings about police, and I think the dogs help them to feel more approachable."
Since its inception in 2014, MSUPD's K-9 Unit has employed three teams of dual-purpose explosive and patrol detector K-9s and one narcotics K-9 team.
These dogs begin their training at only a few months old and come from many different countries, such as the Czech Republic, where Bach was born. He even learned his commands in the Czech language. MSUPD K-9s are initially trained at a K-9 school in Arkansas, where they also train with their handlers before joining the department on campus.
Bunch said that trainers look for very specific qualities in a dog, including a strong-will, high energy and drive.
"A dog with no desire to do anything will not be a good working dog," Bunch said. However, a dog like Bach, who will do anything for a tennis ball, will do whatever you want him to do. For Bach, work was a game."
Handlers, like Bunch, are not only responsible for their K-9s at work, but also at home.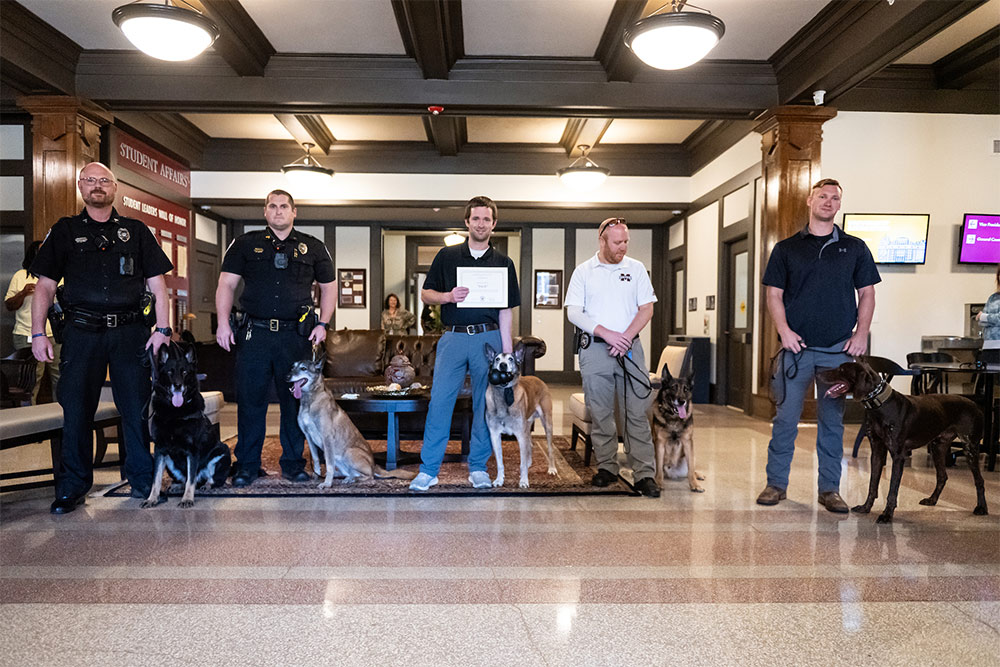 Locke said the time handlers and K-9s spend together creates something special between the two.
"Any time you pair a K-9 and a handler, there's that special bond between them. The handler is with them 24 hours a day," Locke said. "They take them home, and they're a part of their family."
On his retirement, Bunch said Bach is still trying to settle into a life of not working, something he truly loved.
 "When asked 'Are you ready for work?', he would always bark, start wagging his tail and run to the front door," Bunch said. "We are going to try to keep him active in retirement so he doesn't get bored, but it will be a full-time job."
For more information on MSU's Police Department, visit https://www.police.msstate.edu/.
Mississippi State University is taking care of what matters. Learn more at www.msstate.edu.