MSU Contact: Allison Matthews | UMMC Contact: Annie Oeth
STARKVILLE, Miss.—Mississippi State students choosing to pursue a degree in nursing now have a new route through a partnership with the University of Mississippi Medical Center School of Nursing that allows completion of an MSU degree in interdisciplinary studies alongside a UMMC nursing degree.
The dual-degree program parallels an agreement MSU has had in place with Mississippi University for Women for several years.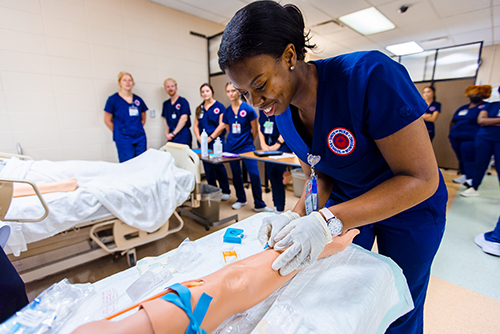 Dr. Julie Sanford, dean of the UMMC School of Nursing, said the program will offer another way for MSU students to obtain a Bachelor of Science degree in Nursing from the BSN program ranked highest in Mississippi by U.S. News & World Report.
"To address the tremendous national need for nurses, our state institutions must work together," Sanford said. "We look forward to working with Mississippi State University and welcoming students in this dual-degree program to our campus."
The U.S. Bureau of Labor Statistics projects 203,200 openings for registered nurses each year through 2031.
MSU Provost and Executive Vice President David Shaw said earlier academic matriculation agreements with UMMC have proved beneficial for MSU students interested in medical careers.
"This new dual-degree route furthers options for those desiring to enter the nursing profession, which is both in high demand and a source of high-quality employment opportunities," Shaw said.
M.C. Reese, assistant clinical professor and director of MSU's Dr. A. Randle and Marilyn W. White Health Professions Resource Center, said the agreement is a "wonderful opportunity for our students."
"I have talked with many students who are interested in going into the nursing field but are sad because they will leave MSU without becoming an alumnus. This is an opportunity for them to achieve both goals," Reese said.
A student must follow a certain curriculum that includes MSU requirements for graduation and UMMC's BSN prerequisites. The student must then apply to UMMC's nursing program in Jackson and once accepted, transfer to the medical center for the two-year BSN program.
Reese explained that once a student is a UMMC student, they are no longer considered an MSU student. However, at the end of nursing school, some of the student's nursing credits can transfer back to MSU and count toward a Bachelor of Science in Interdisciplinary Studies through the College of Arts and Sciences without further study. Therefore, these students can simultaneously earn two bachelor's degrees—a BSN from UMMC and a BSIS from MSU.
MSU and UMMC have partnered since 2018 on an early entry program for MSU pre-nursing freshmen. Students in MSU's Freshman Early Entry, or FEE, program earn approximately 65 credit hours at MSU before transferring to the UMMC School of Nursing to complete the nursing degree. Admission to this degree program can occur in the fall of the freshman year through early entry or through regular entry after completion of the pre-nursing curriculum at MSU.
MSU's Dr. A. Randle and Marilyn W. White Health Professions Resource Center guides MSU students, in any academic major, who aspire to gain entry into a health professional school. Now located in Rice Hall, the office is named for the Greenwood nephrologist and his wife whose support helped make it a reality in 2016. Learn more at www.prehealth.msstate.edu.
For more information about Mississippi State University, visit www.msstate.edu. For more information about the University of Mississippi Medical Center, visit www.umc.edu.