Contact: Carl Smith
STARKVILLE, Miss.—Securing additional funding to support faculty remains Mississippi State President Mark E. Keenum's top legislative priority this winter, and the 19th leader of the university vowed to continue showing state lawmakers how investments in higher education improve the quality of life of and create jobs for Mississippians.
Keenum, along with various vice presidents from across the university, reflected on MSU's successes and points of pride from the past year—from implementing new promotion and tenure tracks for faculty to how the Bulldog family came together and celebrated the life of former football coach Mike Leach—and laid out his vision and expectations for 2023 during Tuesday's [Feb. 14] Spring General Faculty Meeting.
Specifically, Keenum acknowledged the continuing effects of inflation on the university, from weakening the boon of previously implemented raises to driving up the costs of new campus construction and renovation efforts. Despite these issues, the state sits in one of its strongest financial positions in years in terms of revenue collections, prompting Keenum to say "now is the time to invest" in higher education to help stem rising costs and allow the land-grant institution to make more of an impact through learning, service and research.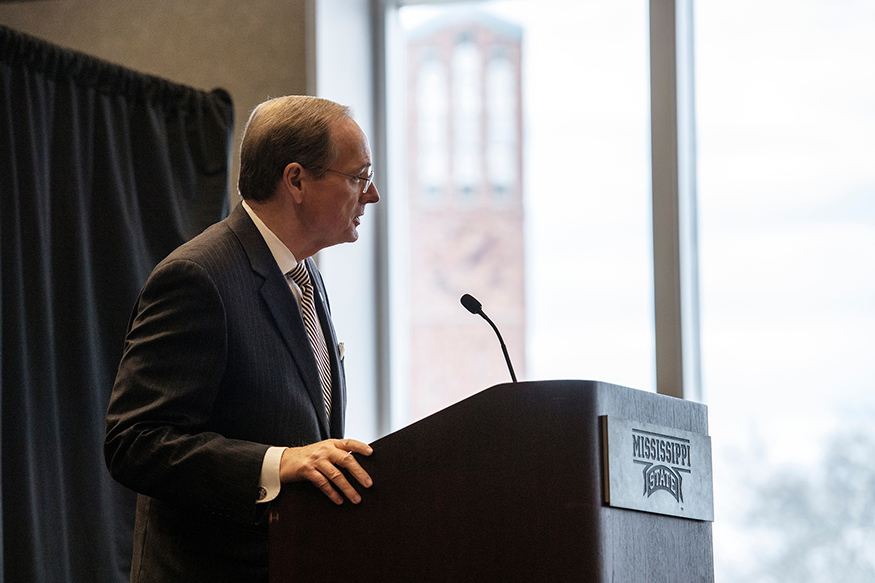 "My top priority is to increase funding for our people—our employees; to get funding so we can provide meaningful salary increases to support them and faculty retention," he said. "We have to invest in our people and all the great things we are doing to serve the needs of our state, and I've made that point very clear in my discussions with the leadership of the Legislature. I'm hopeful they will make these necessary investments.
"Our faculty make Mississippi State University great," Keenum added. "Because of your tremendous efforts, we had another very successful fall semester, and I know that this spring will also be successful."
MSU remains the Magnolia State's leading research university and one of the nation's top 100 research institutions, according to a recent National Science Foundation report highlighting the university's approximately $275 million in spending during Fiscal Year 2021.
Julie Jordan, vice president for research and economic development, said the university's research spending will account for even more in FY 2022, and she pledged her office will work with faculty to maintain this level of output and fully support commercialization efforts for scientific breakthroughs.
"The work our faculty does across this campus makes my job easy," Jordan said.
Keith Coble, Division of Agriculture, Forestry and Veterinary Medicine vice president, echoed Jordan's pledge to faculty.
"Grants are getting larger. They have needs in terms of management and subcontracts that are bigger than in the past," he said. "We have to adapt as an institution to be able to support our faculty as they go after and execute these proposals."
Provost and Executive Vice President David Shaw updated faculty on the work of almost 20 faculty-driven task forces charged with reimagining a variety of university activities, programs and directives for the everchanging educational landscape, from student outreach to strategic enrollment efforts. He applauded how various campus colleges, departments, units and organizations are coming together to redefine what education looks like and can be.
"So much good has been done," Shaw said. "We have a very bright future before us."
MSU is Mississippi's leading university, available online at www.msstate.edu.